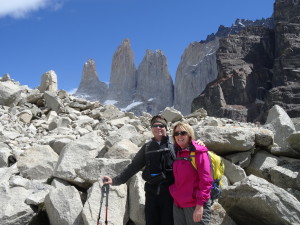 We are Mike and Tracey from Sarasota, Florida, USA.  We have decided to take a sabbatical from our work and "live" around the world for the next five years.  Mike is taking a break from management consulting and Tracey is taking a break from work in finance. We sold our house, two cars and purged much of the "stuff" that uselessly fills the house and its closets.
We have entered what we are calling the "flipside" of our lives.  A life with the freedom to learn, travel, explore opportunities and follow our passions…where ever that may lead us.  We are not sure if this is the "A" side or the "B" side.  But since we like the unconventional, sometimes the "B" side (or the "less familiar aspect of something") brings the best.
Our first adventure launched in New Zealand for 4 months, then on to Australia for 7 months, then to Thailand, Laos, Vietnam, Cambodia, Singapore, and Hong Kong. We then lived in Japan for 3 months. Now we are in South America, exploring Peru, Bolivia, Chile and Argentina.
We like to get entrenched in different cultures, new ideas, meet new people, make new friends and see new lands…and learn how the locals live.  We think this is a most rewarding part of traveling.
We are a year and a half into our five years of "living around the world" and now have traveled to 35 countries! If you wish, please join us on our journeys as we document them in words, pictures and videos!