The scene leaving Sarasota, Florida to Lima, Peru was a bit of a whirlwind, no pun intended. We had just escaped the powerful punch of Hurricane Irma over the weekend as it weakened and followed a more easterly track.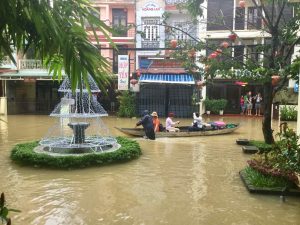 Earlier this year while living in Vietnam we experienced some powerful weather as well…torrential rains and flooding in the town of Hoi An. Even as our hotel flooded, wading in chest deep water in the streets, and people being transported by boat from their home hotel, there seemed to be more calm and less sensationalizing of the storm than we experienced in Florida.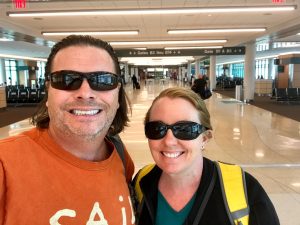 The Florida storm did leave us "powerless" as we still had no electric when we left Sarasota. Three days without power and projections as far out as September 22nd for its return. It's good to leave the heat and humidity for the cooler spring season in South America! Now at least we are getting more questions about Irma than Trump when traveling, lol.
Our flight on Delta to Atlanta and then to Lima was mostly uneventful. Our flight attendant thanked me for being a "million-miler" and "spending my life on Delta"! Lol.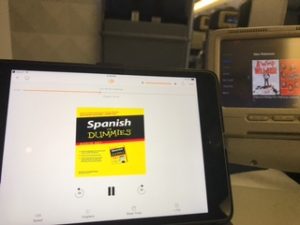 The flight is not bad from Atlanta to Lima, only about 6 and a half hours. It gives me a chance to learn a little more spanish! No hablo espanol is key for me. We arrive in Lima, Peru at 11:45 pm, central time. It sure is nice to be in a nearby time zone, making it easier on the sleep patterns!
We decide perhaps the most economical and safe ride to the hotel this late is Uber. The taxi drivers are on you like "flies on you know what". It is an interesting Uber ride to the hotel to say the least. The driver says to us using his translator App that our trip is cancelled by Uber in the middle of our ride. Meaning we must pay cash. So is he going to try and overcharge us? Something worse? It is about 1 am and the streets are empty.
Tracey has the google maps going so we knew we are at least going in the right direction. We had used Uber in Sarasota earlier in the day so we knew the account was working. So it turns out the driver is likely scamming Uber, keeping all of the fare for himself. I would imagine Uber will be able to easily tell if a driver is cancelling rides more than other drivers and fire these guys.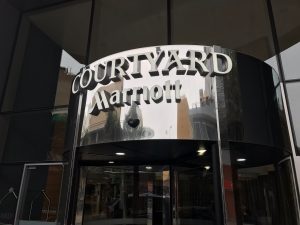 It all works out! At 1:30 am we tuck ourselves in safe and sound at the Marriott Courtyard, our home for the next three nights. Marriott…my "home away from home"!
Day One Lima!
Not getting to sleep until 3 am makes for an early morning in Lima! But we are looking forward to tackling a slice of this 11 million people plus city. Up for breakfast and off to our "free" walking tour. We  love these walks, ideally early during our stay as they provide a good overview of where you are, things to do, history, culture, etc.,. and burn some calories so we can eat more later, lol. It is also interesting to meet fellow travelers and hear their stories.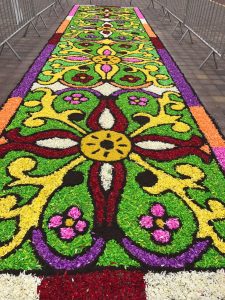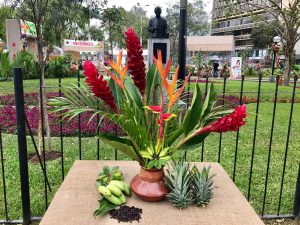 Well we do not find the walking tour, apparently the meeting place was not clear so we will try again on day 2. But it turns out to be the first day of a three-day flora festival! Beautiful flowers in Parque Kennedy which is of course named after John F. Kennedy who provided aid to Peru during his presidency. There are some beautiful displays of plants and flowers and this has a way of brightening up the morning!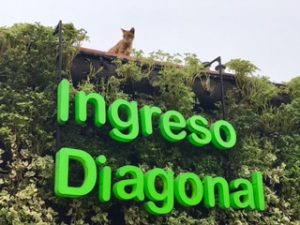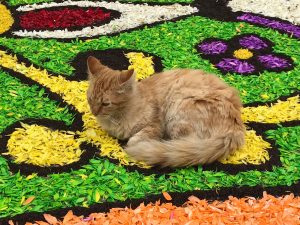 An interesting aspect of the park are its cats….yes cats! It is reported reported that there are as many as 100 stray cats in this relatively small park. The presence of the cats appears to be self-fulfilling, that is many people like the cats (and feed the cats) so the cats like the park! They seem to be in pretty good health and relatively friendly! And everywhere! In trees, on buildings and even on one of the spectacular flora displays made entirely of petals!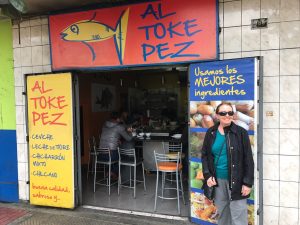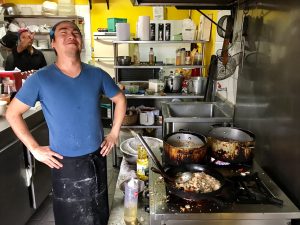 One thing we do not miss on Day 1 is lunch. We find a "hole in the wall" ceviche restaurant, Al Toke Pez, in what is described as the "middle class" or "blue collar" neighborhood of Sequillo. There are about 8 seats surrounding the "kitchen" where we watch the young owner/chef Chef Toshi Matsufuji, son of a famous Japanese-Peruvian chef.
We think we are asking for two seats but I think it is interpreted "we want two combinations". The food arrives with chicha morada (sweetened purple corn juice) and it is outstanding! The combo includes a cebiche mixta, chiccaron and arroz con mariscos. BTW the chicha contains many antioxidants and this is seen as being a natural supplement for high blood pressure. Apparently this is the latest hokey-pokey health food craze. Click here for more on the curative powers that actually date back to pre-inca times.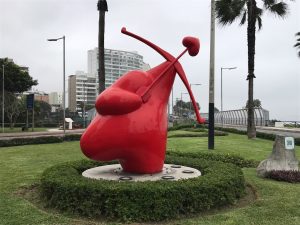 After lunch we are full so we need to walk. We stroll down to the Pacific Ocean. Walking along the sidewalk of Malécon Cisneros in Lima's picturesque seaside district, Miraflores, you will find the iconic Parque del Amor with its larger-than-life sculpture of two lovers in a deep embrace called "The Kiss". The monument to love, created by Peruvian artist Víctor Delfín, was erected on February 14, 1993—Valentine's Day—when the park opened on the Costa Verde.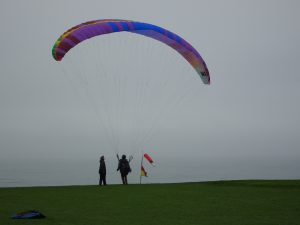 Lots going on down here. Paragliding, dog training, a great photo spot with the cliffs and the statues. There is even a training circuit with exercise equipment along the paths.  The city also has excellent bike lanes many that have curbs between the road traffic.
Back to rest up at "home" before our next meal. We misread our reservation date at our first choice (a long probably boring story), but we are glad we did. We end up at arguably one of Lima's best…Rafeals!
Rafeal Osterling's restaurant that serves peruvian food fused with Asian and Mediterranean influences is  located in cozy Art Deco building in Miraflores. Wow what a find. It turns out that this restaurant is listed in the World's Top 50!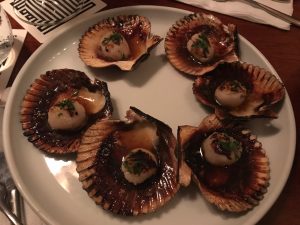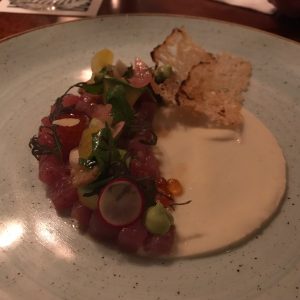 The dinner is outstanding as we try the tuna avocado tartare and baked scallops for appetizer and grouper for dinner. Tracey has hers with curry spices and mine with socarrat catalan and conchas de abanico.
Day 2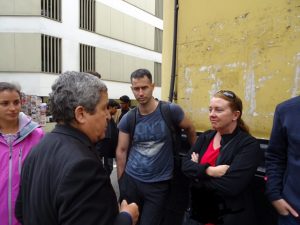 We spend most of the day doing the walking tour and it is well worth it. We actually take the bus into the Lima city center which is Lima's version of Tokyo's busy public transport system. The buses are full and it is important to not be shy about pushing and packing into the bus!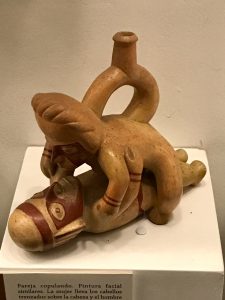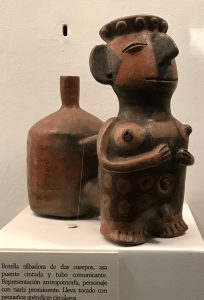 The walking takes us to many areas, the Gold Museum that includes many artifacts and government buildings. We do not make it to the Erotic Art display in the Larco Museum, however, there is a bit on display at the Gold Museum…go figure, lol.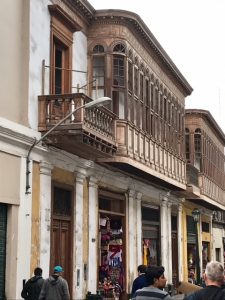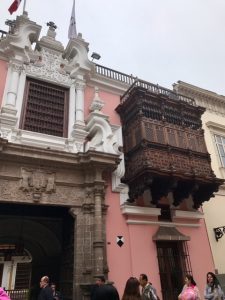 The architecture in the city is beautiful with many buildings UNESCO protected. This includes the many beautiful balconies that are a signature of Lima.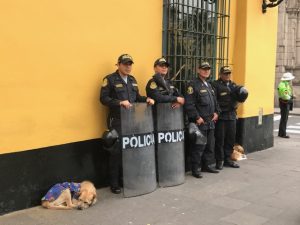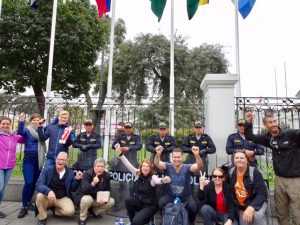 The city is well protected including the presidents quarters and other government buildings. He must be getting ready to leave his residence as it looks like his motorcade is prepping. Lima looks ready for protests! But the police actually do not look too uptight and even pose for a picture with us. The dogs sure liked to hang with them!
The city square, plaza de armas and its buildings are absolutely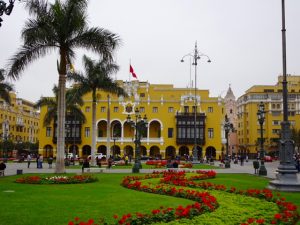 gorgeous. The government palace surrounds part of square and is the office and residence of Peru's president.
We dine at a favorite for our last evening in Lima. La Rosa Náutico actually sits on a pier out on the Pacific Ocean. We have a table at a window that looks right at the pounding waves. The place is fantastic, the food is great. It is a great way to end our stay in Lima and leaves us wanting for more!
Please follow and like us: