We leave Takayama, a beautiful town in the Alps of Japan mid-morning on a Tuesday, headed for Tokyo.  With one connection, the Shinkansen bullet train will have us at our new digs in Tokyo by 2:30 pm, our home for a month.
We love large cities and all they can offer. We are staying in the heart of Tokyo, the Shinjuku area. We found this condo through Airbnb and it was a good find! Shinjuku boasts the world's busiest train station and is Japan's largest neighborhood.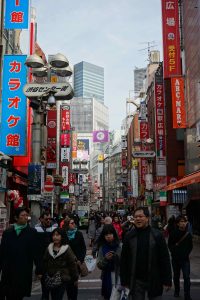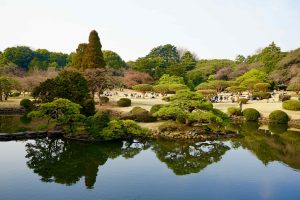 The bustling, vibrant area is filled with skyscrapers to a more quiet residential area, an enormous park featuring many cherry trees, lots of neon, shopping, restaurants, bars, "entertainment" and more. Japan-Talk.com describes it like this: "It's urban jungle at its best. A place that exists at such a massive scale that it's a bit of a mystery, even to those who know it well". Well said, and we intend to cover it all, lol, in the next 30 days!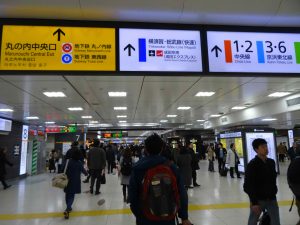 We make the connection at Tokyo Station and catch the line to Shinjuku-gyoenmae Station.  From there it is just a five-minute walk to our place. The PASMO card is a convenient way to use the Tokyo Metro lines, buses and even make purchases at stores if needed. The card is easily topped up using vending machines and is much easier than buying tickets for each use. Any unused portions are also easily refundable.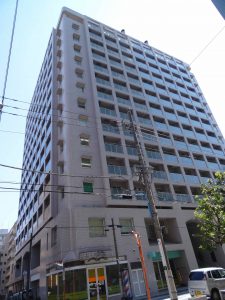 The owner, Eji, meets us at the condo. He is the husband of the host, whose English isn't extensive but we are successfully checked into our Airbnb spot.  The owners recently started renting and are very accommodating and conscientious.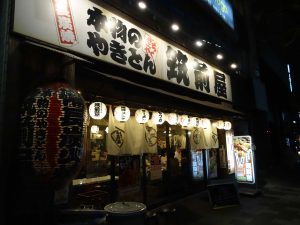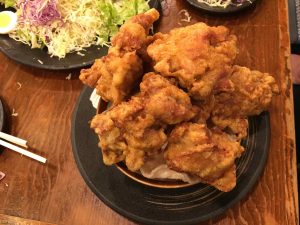 They have left us a list of restaurants and it doesn't take us long to start exploring.  After unpacking (we don't have much to unpack…good thing the space is limited!), we are off to a spot that has yakatori. Pork is a specialty but we opt for a salad and fried chicken. Outstanding, filling and I am sure low calorie, lol!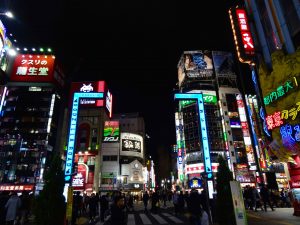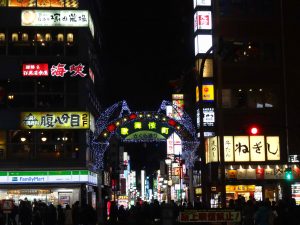 We take all walk through the Shinjuku area and the Kabukicho section which is packed with neon, restaurants, and the related red light district entertainment. It is a fun place to explore and people watch.  We will be back for some great night-time photos.
Also, we are going to ditch our backpacks for some pull luggage. I have used the pull luggage for many years for business travel. Weighing the plusses and minuses and doing some research we decide on the Eagle Creek brand. They are not carry-on size, but essentially this is what is transporting all we have for our full-time travel. Also airlines have generally become more restrictive with carry-on size and items, so we have been checking luggage anyway. We find a pretty cool store, A&F Country in Tokyo that carries the Eagle Creek products.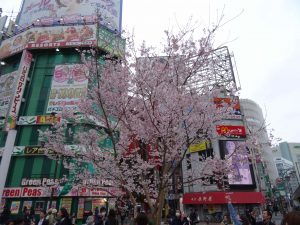 Oddly enough, we do get to see some of our first blooming Sakura in a busy urban shopping area of Shinjuku. Many excited people capturing the blooms!
This evening our wonderful Airbnb host, Sutsuko and her husband, Eji, stop by to meet us and say hello. What wonderful people!  Three hours later they have given us a tour of the area, taken us to dinner, and introduced us to some great evening spots for fun.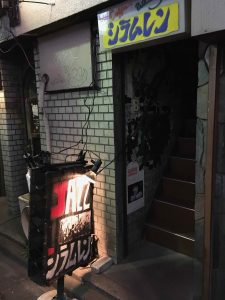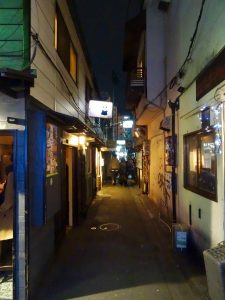 There is a wonderful Jazz club a couple blocks away, as well as, an area with several small alleys called Golden Gai. It is known for its dozens of small traditional Tokyo pubs, typically 6 – 8 stools per bar.  We will definitely be enjoying a few nights out!
Our last stop is a super grocery store just a couple of blocks from our place, Ito Yokado.  They have great discounts later in the evening on sushi, sashimi and other food.  Ito Yokado will help keep us out of a few restaurants during our stay.
Mt. Fuji!!
It is a bright sunny morning as we head out to see Mt. Fuji. A cool start to the day as it is in the low thirties but headed to the mid fifties…spring may be here!  We did see some blooming cherry trees, yesterday.
We take the Tokyo Metro a couple of stops to Shinjuku Station, the busiest train station in the world. It is the tail end of rush hour and there are hoards of people boarding here.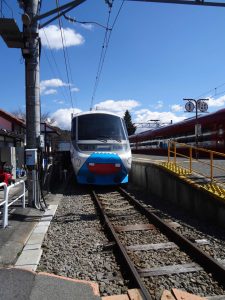 We use our 21 day JR Rail pass here, as we have two days left on the pass. We have certainly got our money's worth with the pass after several bullet train uses all the way from Nagasaki, Kyushu to Tokyo.
At 3776m high, Fuji-san (Mt. Fuji) is one of the most famous symbols of Japan. It is a dormant volcano about 60 miles southwest of Tokyo. It is actually climbed by around 300,000 people a year, but not by us today. Thankfully the treks are closed as the winter snows are still waning. We will be one of the many thousands just enjoying the majestic view.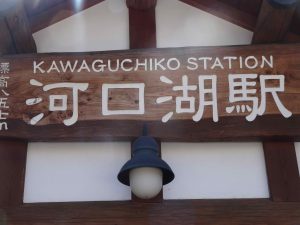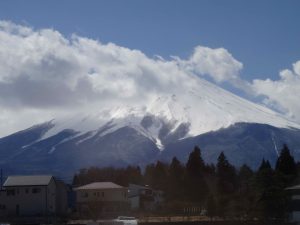 The mountains are beautiful as we approach the Kawaguchiko train station near the base of Mt. Fiju. The train station is actually close to Fuji but views are obstructed by power lines and buildings.  We jump in a taxi and head to Oishi Park for better views.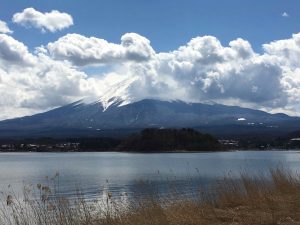 Oishi Park sits on the northern end of Lake Kawaguchiko. The weather is partly cloudy and the views across the lake of Mt. Fuji are spectacular.  The spot is not overly crowded.
We bus it back to the little town area on the lake here. Tracey has her penchant for Indian food satisfied at Alladin India Restaurant with Chicken Masala.  Not bad!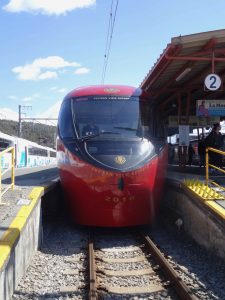 We are back on a 2:29 pm train to Tokyo with one change and back to our apartment by 5:30 pm! This Mt. Fuji day trip works well and is a must do!
Skiing at GALA Yuzawa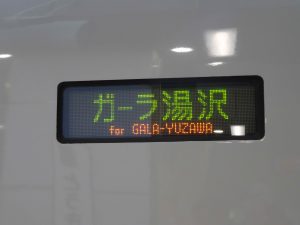 I am up at 5:30 am and out the door by 6 am to catch the 6:44 Shinkansen train to Yala Guzawa. I had debated whether or not to make this day trip for snow skiing. However, it is a terrific opportunity being so convenient to Tokyo, plus I have one day left of my JR Rail Pass.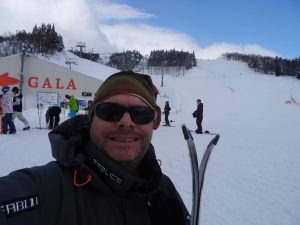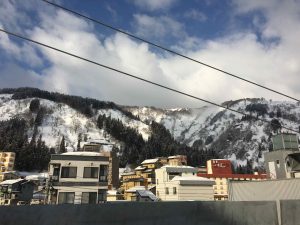 GALA Yuzawa is a ski resort 75 minutes from Tokyo by bullet train. The lift, equipment rental is right at the train station! You can leave Tokyo and be on the slopes by 8 am!
I have no equipment and not much in terms of wear, but all easily rentable.  They have plenty of snow, over 350 cm and temps are forecast for the mid twenties with snow showers.
On the bullet train, I am seated next to a young man, maybe in his mid thirties, wearing a mask as they do here in Japan.  Now he just popped open a Kirin Beer at 6:40 am. Health conscious and getting ready for the slopes! Looks like he is a snowboarder.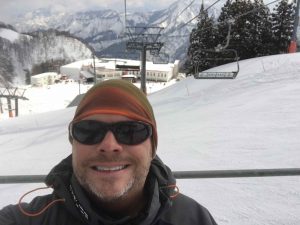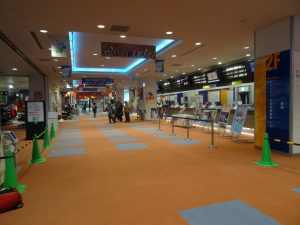 Wow…talk about convenience! I just walk off the train, buy my lift ticket, rent the gear, change in the adjacent locker room and I am off.  The gondola is right outside the locker rooms.  The gondola takes me up the mountain.  As I exit the gondola, the ski poles are right there to pick up.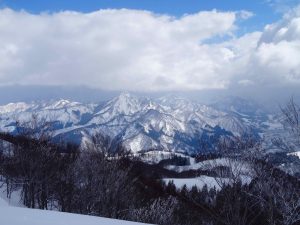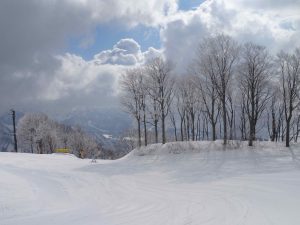 There are a total of ten lifts at the resort and a fair number of runs.  This area gets a lot of snow and there is plenty today.  It is sunny this morning with some clouds and snow showers around. The views are outstanding!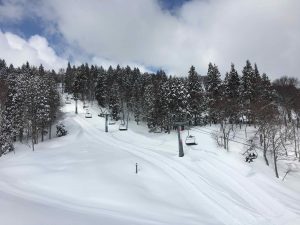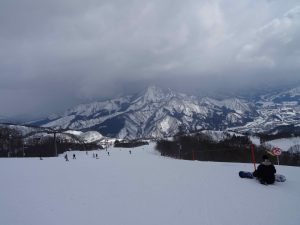 I break for lunch around noon.  The crowds are not bad at all, even at lunch. I would say about 60 percent of folks are snowboarding versus skiing.
The food is actually quite good. It is also not overpriced which often happens in places where one is part of a "captive audience" with limited options.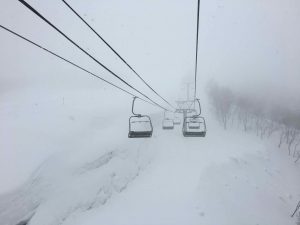 As I finish lunch it clouds up and the snow starts to come down steady.  My next several runs have very poor visibility as it is snowing hard with a bit of wind.  It gets a little cold (Tracey would be freezing!), however the clothing equipment they rent is excellent.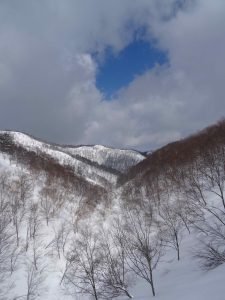 I decide to take a break for coffee and relax a bit.  The snow subsides a bit and the fresh snow makes for more great skiing in the afternoon. After a great day of skiing the train whisks me back to Tokyo in 75 minutes and I am back to the apartment by 7 pm for a great dinner.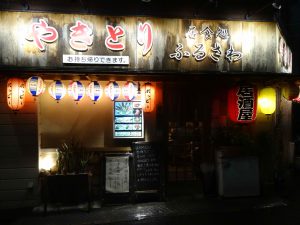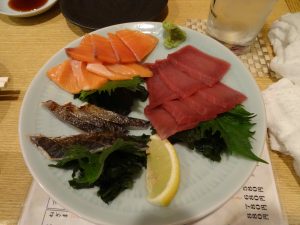 We enjoy a variety of food at a nearby Izakaya style restaurant. There are hundreds, no probably thousands of these type restaurants in Tokyo, These restaurants are usually smaller, serve a wide variety of food and usually plenty of drink..all which is enjoyed and usually shared at the table at a leisurely pace. We enjoy several types of Sashimi, gyoza, salmon fried rice, salad, and yes, even french fries. We have found that the  fries are actually pretty popular in Japan. 
Hitting the Gym
Being in Tokyo for a month, it's time to join a gym. When we stay in a city for a month, we always join a gym. We find a great spot, Monkey Gym. It is open 24 hours and close to our place as well as the subway station. No excuses for not going…well, no good ones anyway.
New shoes are required to use the gym. As usual, there is a focus on "shoes off" as you enter the gym, new shoes only, in the gym.  Gym shoes must also be taken off as you enter the locker rooms.  It is workout just taking the shoe's on and off!
I do find a great pair of New Balance running shoes at a local sporting goods store.  With my wide feet it is always a challenge and had the store staff working hard going through about a dozen pair before finally hitting the jackpot.  The staff were very helpful and kind, but I think were glad to see me on my way! We end up visiting the gym every other day while in Tokyo…this helps with all of the calories consumed.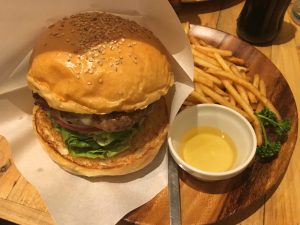 Speaking of food, for dinner we have a great local hamburger place in our neighborhood.  We eat a couple of times at Chatty Chatty.  They actually have instructions for how to eat the messy burger so you don't miss a morsel! Great staff and they remember that I enjoy Makers Mark the next time we come in to eat.
Meiji Shrine, Yoyogi Park and Takeshita Street
Today, Sunday turns out to be the nicest weather of our visit so far in Tokyo. We enjoy a picnic lunch from the incredible food selections at the wonderful department store, Isetan. As usual with Japanese department stores, they have the two basement levels of food filled with about every Japanese food imaginable, and, sample after sample!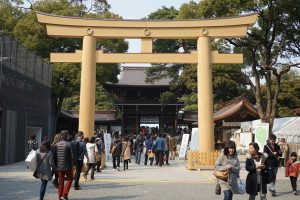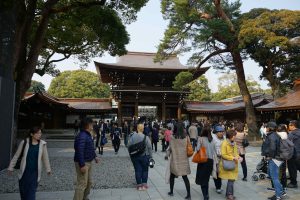 We head into the Meiji Shrine grounds. It was built in 1920, dedicated to the souls of Emperor Meiji and his wife, Empress Shoken.  The shrine was destroyed during World War II, but was rebuilt shortly thereafter. Emperor Meiji was the first emperor of modern Japan beginning in 1867 when Japan's feudal era came to an end and the emperor was restored to power. During the Meiji Period, Japan was modernized, westernized and ended its world isolationism by the time Emperor Meiji passed away in 1912.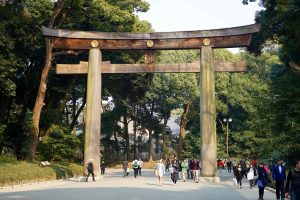 There are a couple entrances to the shrine. One entry is through an enormous torii shrine gate one of the largest in Japan. The gate is made of Japanese cypress and more than 1,500 years old.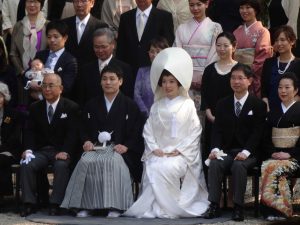 Since it is nice day, the shrine and it's grounds are busy. There is also renovation underway at some of the key shrine buildings in preparation for its 100th anniversary in 2020, but the grounds are beautiful. As the shrine is a very popular place for traditional Japanese-style weddings, there is one occurring during our visit.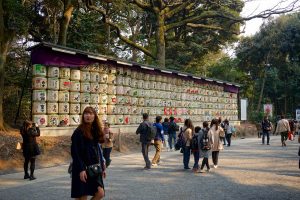 On the grounds of the shrine is a large collection of sake barrels. These barrels, or kazaridaru in Japanese are offered every year to the Meiji Shrine by sake brewers from around Japan.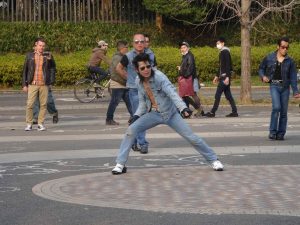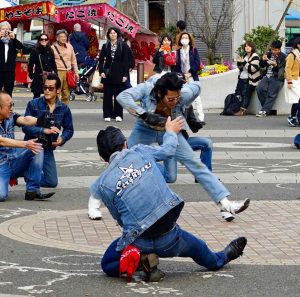 Adjacent to the Meiji Shrine is a the large, beautiful Yoyogi Park.  Yoyogi is one of Tokyo's largest parks and is a great place to relax or even watch some interesting entertainers. You can see a variety of talent here, from musicians to anime characters to hip-hop, and Elvis inspired dancers jamming to American pop music from the fifties!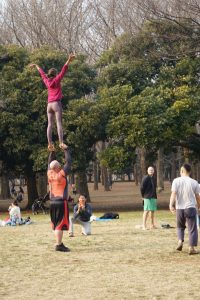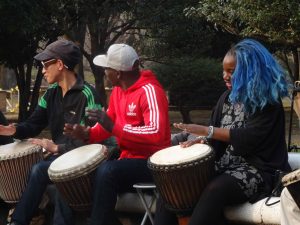 With this being the nicest Sunday weather of the season, everyone is out. In addition to the dancing Elvis impersonators, there are folks playing badminton, bike riding, performing acrobats, playing frisbee football, painting to music, playing guitar and many picnicking. It's wonderful to see people out smiling, relaxing, playing, dancing and singing.
There are also cherry trees here and a few blossoms are happening. We will make more visits to this park as the month and blossoms progress.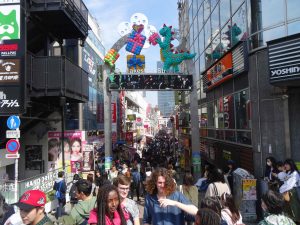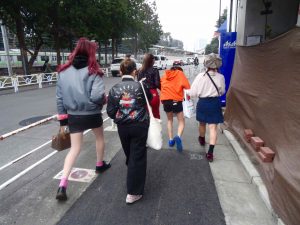 We head back to our digs but not before passing through the nearby area of Harajuku and Takeshita Street. Harajuku is an incredibly popular district near the park and Meiji Temple. It is touristy as well, but filled with shops and restaurants, seemingly catering to a teen crowd.  The area is packed with youngsters  sporting the latest fashions and maybe not so latest fashions. Anyway, it is fun, vibrant area to visit.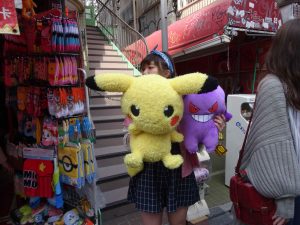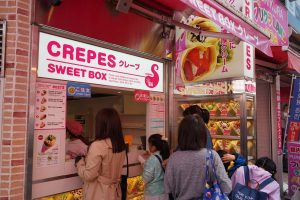 Takeshita Street is the most popular shopping street in the area that stretches for a block or two. It is a great place to people watch or grab a snack. A popular choice includes crepes with all types of sweet fillings including chocolate, banana, strawberry and cream.
Sakura! Celebrating the Beloved Cherry Blossoms!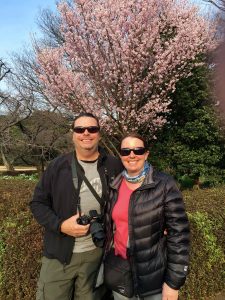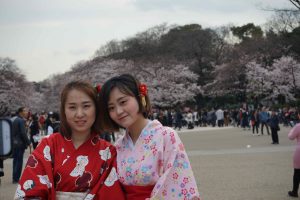 Sakura, or cherry blossoms, are vigorously celebrated here in Japan as they have for hundreds of years. Being in Tokyo for the month in the prime of the season, we have been able to experience the trees from bud to blossom!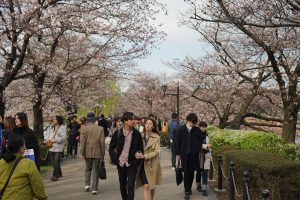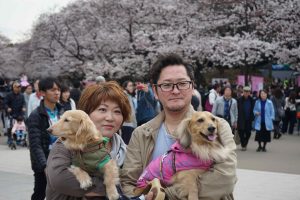 It has been a moving experience to see so many here, young and old, so genuinely enjoying, smiling, laughing and happy. Sakura reminds us of both the transience of life and happiness, and the importance of hope, spring and renewal. Hanami is the Japanese word for the celebration and festivals. It literally means "flower blooming". The following are some of the parks and pics across Tokyo where we enjoyed the sakura!
Shinjuku Gyoen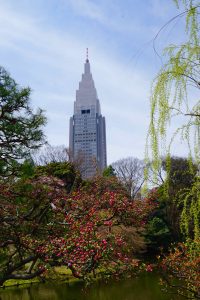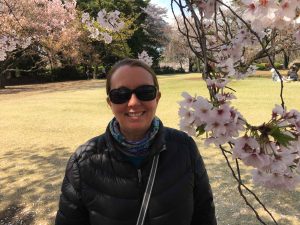 Fortunately we were a few minutes walk to one of Tokyo's most beautiful parks and best spot for viewing cherry blossoms, having over 1500 cherry trees and a dozen varieties. It is a vast park, over 140 acres and more than 20,000 trees, with traditional Japanese landscape gardens as well as French and English styles.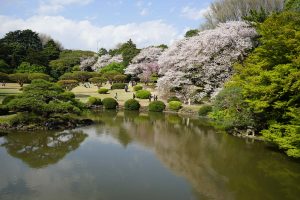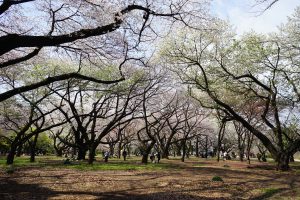 It was originally a residence of the Naitō family and was built in the Edo period (1603-1868). It was remodeled in 1906 during the Meiji period for the imperial family. Amazingly, it was completely destroyed in World War II in 1945.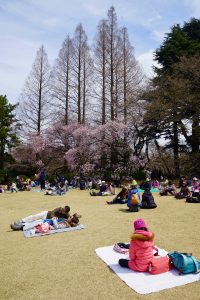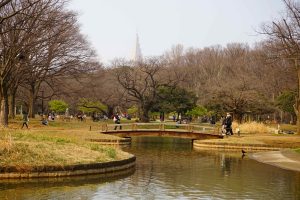 The admission to the park is 200 yen, a bargain.  We visit the park no less than five times to observe the blossoming process over our month-long stay. 
Ueno Park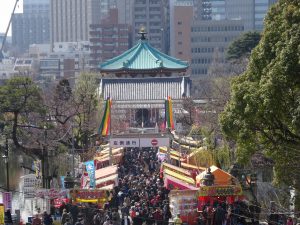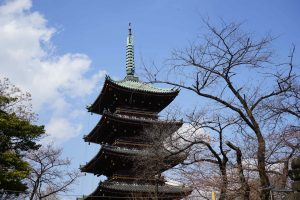 Ueno Park is Tokyo's most popular based on visits. It has 8800 trees with 800 or so being cherry trees.  The park has several buildings, shrines and temples.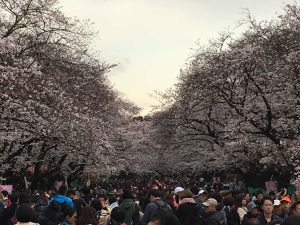 The park contains a fantastic walk that contains essentially a canopy of cherry trees. We visited this park twice over the course of the blooming season.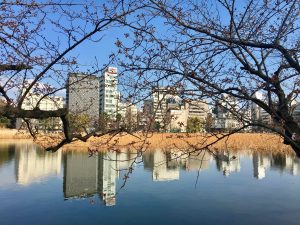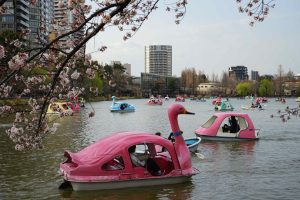 Nearby walking paths, the Benten-do Temple and the Shinobazu Pond are beautiful. The  Shinobazu Pond has quite a history with extensive lotus beds and marshland. It was once even part of Tokyo Bay. You can take a paddle boat ride in a section of the pond.
The first visit to Ueno Park the blossoms were not quite fully out, maybe 20 percent but about ready to bust! There were still many visitors enjoying the park and early blossoms.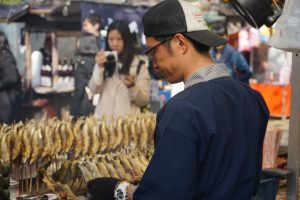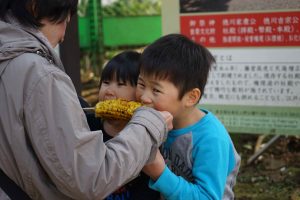 Food vendors line the entrance to shrines with all kinds of food from hot dogs, to chocolate covered bananas, grilled octopus, to yakitori, and takoyaki. Corn on the cob is popular as well!
Our second visit to the park was at the peak for the blossoms.  The park was packed with people but the sakura were absolutely beautiful.  It is an amazing site to see and experience!
Chidorigafuchi and the Moats of the Edo Castle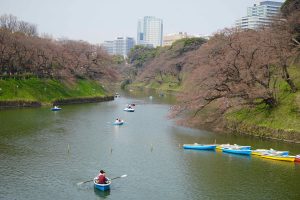 The Chidorigafuchi is actually a beautiful moat located in the northwest of the Imperial Palace. It is said the name comes from the moat's shape, which resembles plovers, a flower, (chidori in Japanese). I am not sure I see that, but, ok. The moat was constructed in the early Edo Period.
Around the moat is a 700 m-long pedestrian path that is covered with the blossoms of the hundreds of cherry trees. Again, we make two visits here. The first visit is during the day while the blossoms are just beginning to open on a small percentage of the trees.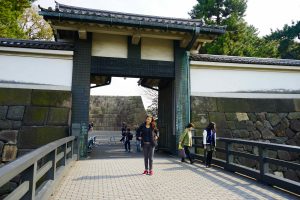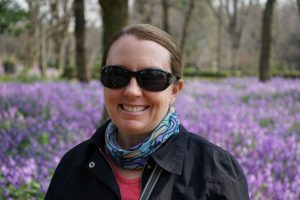 We also walk through the park, crossing the Nijubashi Bridge to enter parts of the Imperial Palace gardens.  The Palace is home to the Imperial Family.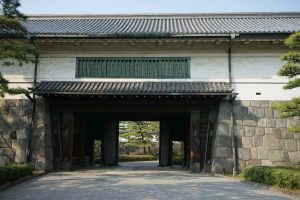 The inner grounds of the palace are generally not open to the public. Guided tours of the palace grounds are offered during the year, although no buildings are entered. The tours take about 75 minutes and are held in Japanese daily except on Sundays and Mondays. Unfortunately advanced reservations are required and it is booked the month we are in Japan! I am not sure my Japanese is good enough to have understood much anyway.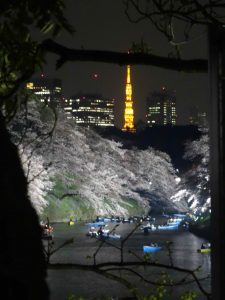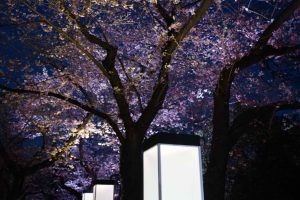 Our second visit to Chidorigafuchi is at night and is it stunning!  The sakura are at their peak and so are the crowds. There are many celebrating as the cherry trees are lit up. It creates the appearance of magical, gorgeous tunnel along the pedestrian path.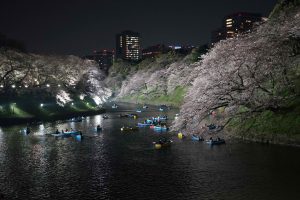 There are also boats rowing along the tree lit moat.  The view of this scene is just spectacular as I am sure those in the boats have an incredible view looking up at the trees along the moat and path.
Chidorigafuchi is a must do during the cherry blossom season! The area can be visited year round offering unique views depending on the season.
Meguro River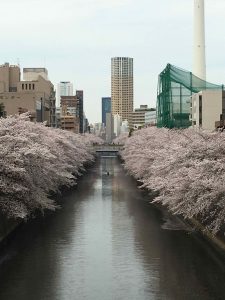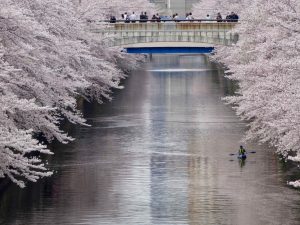 We may have saved the best for last. The Meguro River surroundings are urban, not particularly a draw. However, there are around 800 cherry trees that line Meguro River banks and walkways that are fantastic! We visit here during the day as the blossoms are in peak bloom.  The views from the bridges are spectacular.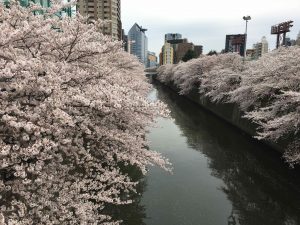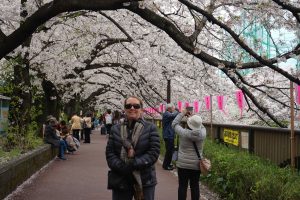 We walk along the pedestrian paths lining the river. The trees and blossom create an amazing canopy. Many folks are out visiting and viewing!
Asakusa and Sensoji Temple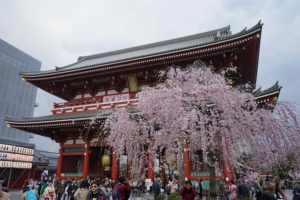 We visit the Asakusa (浅草) neighborhood and its most famous attraction, the Sensoji Temple. The temple is a very popular Buddhist temple built in the 7th century. While the cherry trees and blossoms are not the big draw here, they add to the magnificence of the temple and the area.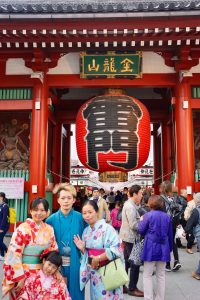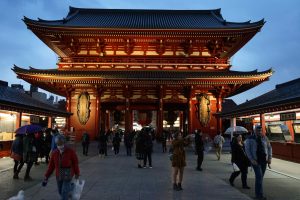 The temple is approached via a couple of spectacular gates, the first being the Kaminarimon, or Kaminari Gate. It was first constructed over one thousand years ago, rebuilt after air raid bombings during World War II.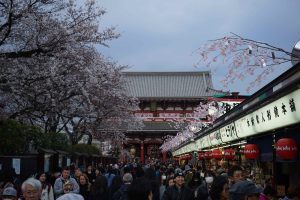 The gate leads to Nakamise, a long shopping street that ends at the temple grounds. There is a variety of shops with food, local items and, of course, the touristy souvenirs.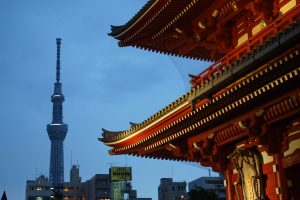 It starts to thunderstorm during our visit. We take refuge on an awning covered bench just outside a store on a nearby street. A very kind store owner comes out and insists we take an umbrella that he offers us, as he says the rain is supposed to continue.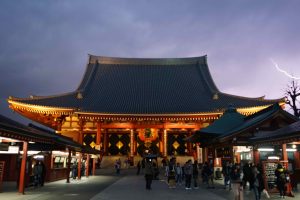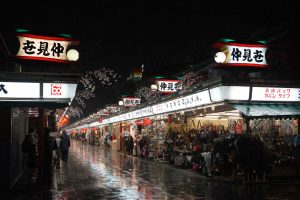 The storms do make for some interesting pics as we eventually make our way back to the train station via Shin-Nakamise Shopping Street. This is a nearby covered shopping arcade with more stores and restaurants.
Yoyogi Park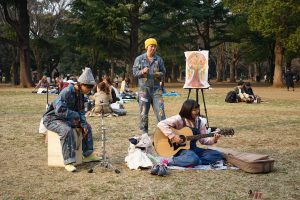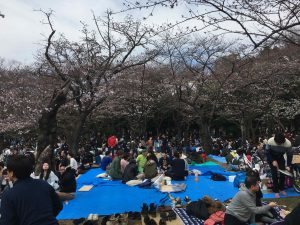 We make another trip back to Yoyogi Park later in the Sakura season. The park again is filled with a variety of entertainers and is packed  because of the nice weather and the blooms!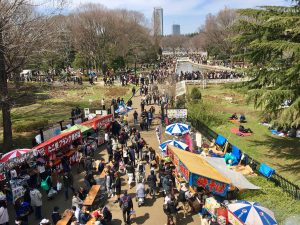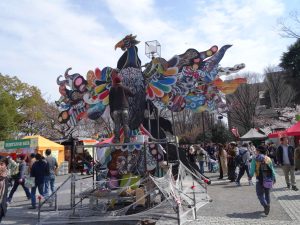 There is also a festival occurring adjacent to the park with food, music and other entertainment.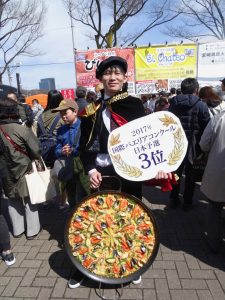 It is an "earthy" sort of festival, so we meet a few Japanese "hippies", lol. Another terrific spring day with locals and visitors enjoying the festive spring season!
Also, see our video capturing the hanami we shared with others in this beautiful, special place!
Restaurants
Tokyo has over 160,000 restaurants according to Michelin. When it comes to reputations, Tokyo is arguably the food capital of the world, with more than 225 restaurants holding at least one Michelin star…more than twice that of Paris.  We won't hit them all while in Japan, but we enjoy quite a few!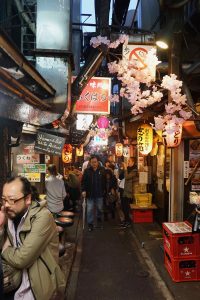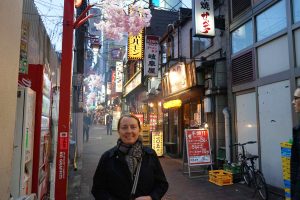 One area we really enjoy is Memory Lane in the Shinjuku district of Tokyo. The area is unique, sometimes called Omoide Yokochou (Memory Lane) and Shouben Yokochou (Piss Alley).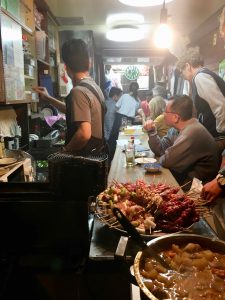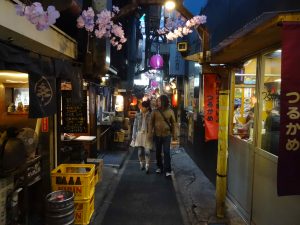 The area is huddled along the busy tracks of the Shinjuku Train Station. Piss Alley has post-war 1940s roots and is just a few small, tight alleys with dozens of small bars and restaurants.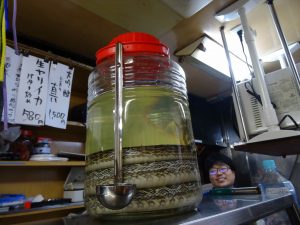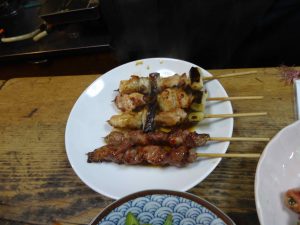 Yakitori, beer, shochu and whiskey are plentiful here as well as unique food ranging from grilled salamander, eel, and many "types" or cuts of beef, pork and chicken. The air is thick with smoke from all of the grills!
One of the most famous, maybe infamous places in Piss Alley is Asadachi. Some crazy food here, ringing from frog sashimi, to pig testicles, to snake liquor. Needless to say we do not eat here!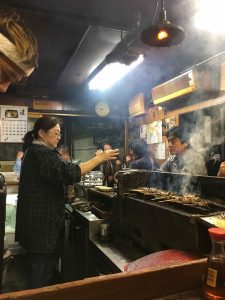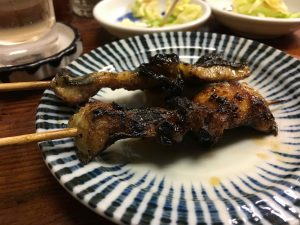 We do try three places here, the first with various kinds of yakitori. The second place we try is Kabuta, specializing in unagi, or eel. It is family run since 1948, now run by a granddaughter and her son cooking.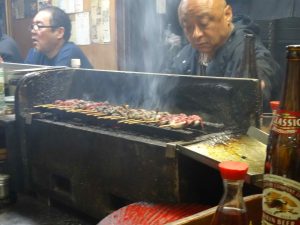 The all asian patrons and owner look at us when we are first seated on our stools with the owner making sure that we know it is "all eel". Six skewers and a couple shochus later they know that I love the BBQ'd eel! Good thing eel is good for you. I am not so sure about the Shochu!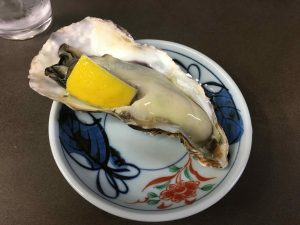 Just after we leave here a few meters down the alley we walk by an all oyster place.  We just have to stop, or at least I do. The oysters are huge! I have one grilled and one "natural", or raw. All this washed down by yes, more shochu. Delicious!
Here is a link to some other yakitori restaurants in the area.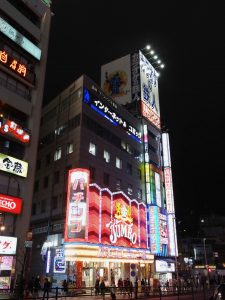 The night is still young so we cross the street to go play pachinko, arguably one of Japan's favorite pastimes. Thus, we can't leave Japan without playing pachinko and leaving a few yen. Pachinko, a bit similar to pinball, is a game that originated in Japan in the 1920s and is used for "gambling" here.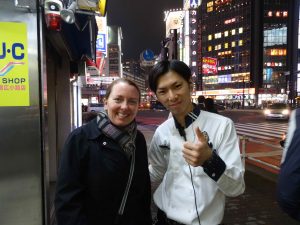 I have no idea what I am doing, so one of the workers at the pachinko parlor helps me out. It is so loud in the place I can barely hear him, and, when I can hear him, I can't understand the "Japanese". But amazingly we win! We get back our 1,000 yen initial investment plus 120 Yen!
The payout is in gold which we take to the "pawn shop" nearby. Technically gambling for money or cash is illegal in Japan, so this is one way the laws are skirted. Amazing what the world does to gamble. Lol.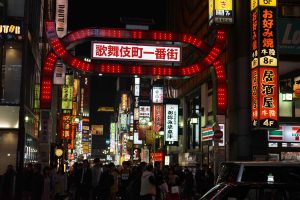 We walk back home through Shinjuku and Kabukicho, Japan's largest red light district. It is lively and quite colorful being a Saturday night. The sounds, lights and people watching make for an interesting stroll home!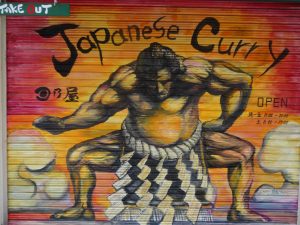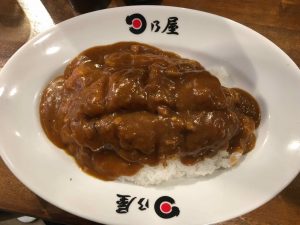 Ok, back to the Tokyo cuisine. Near our place we enjoyed a small Japanese Curry spot called Hinoya 🍛 Curry. So delicious we had to try it a couple of times. The owner had a good laugh when I asked for the recipe.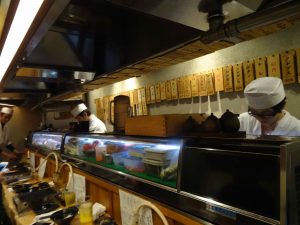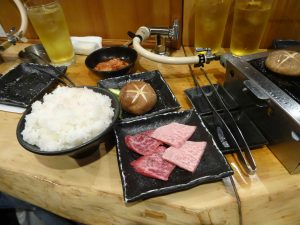 Japan has some excellent beef of course. We dined at a "standing" restaurant, Jiromaru in the Shinjuku neighborhood. The beef here is excellent. You can get all sorts of cuts and grades and the wonderful chefs are happy to help. I did not try anything too exotic. The beef tongue was about as far as I would go. But hey my mother used to always say she liked it…anyway, not bad.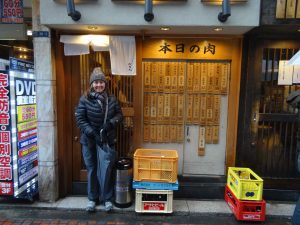 This is a great place, great service and a relatively inexpensive way to sample some great beef.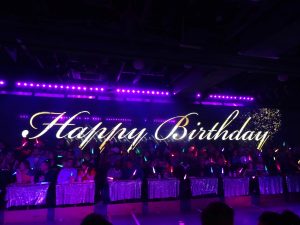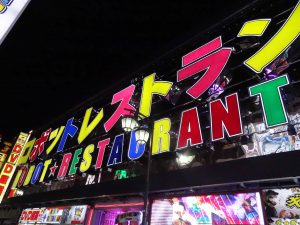 On Tracey's birthday, we head to the Robot Restaurant. Well, not really a restaurant. The food is not the highlight here, rather the show is the highlight. Many people rave about this show, and it is quite amazing. Millions of dollars have been spent on robots, lights, costumes and props. Reportedly upwards of $100 million USD were spent!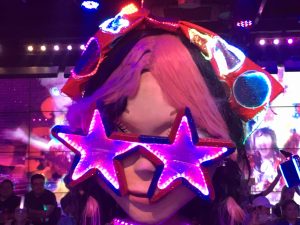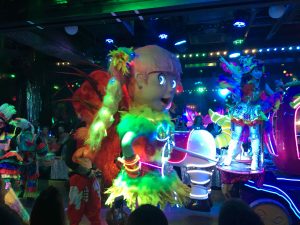 Part of the draw for some are the sexy, scantily clad ladies (and men I suppose). However, what we saw were some fun costumes and nothing too risqué. I guess some people may not get out very much! Quite an experience.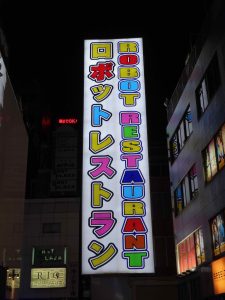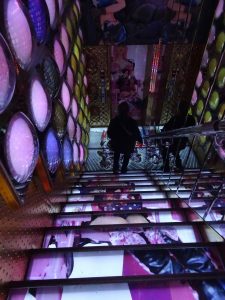 Not sure we felt the same enthusiasm, but Anthony Bourdain describes it: " …  a good sign when protective chains protect entertainers from the soon to be entertained. Right? Prepare yourself for the greatest show in the history of entertainment. I'm confused. What does it all mean?  No. No, it can't be over. Not yet. No. But yes, yet it is. With a series of chaste high fives with the hard-working performers. OK, I've got to tell you. I've seen Jimi Hendrix. I've seen Janis Joplin. I've seen David Bowie. Diamond Dogs. I've seen Colleen Dewhurst and Jason Robards in the "Moon for the Misbegotten," directed by Jose Quintero on Broadway. Considered one of the greatest productions ever in — this was the greatest show I've ever seen in my life."
There are a few shows a day, a couple in the afternoon and the evening.  There is also a preshow.  We had success purchasing tickets through this site.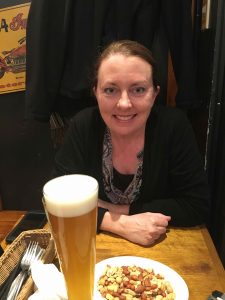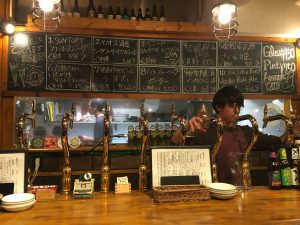 We dined before the show at a craft brewery restaurant, Vector Beer. Not really Japanese sounding, but I promise it was! A decent craft brew industry exists here in Japan and this stop was very good. I sampled a couple of the brews, but the apps here were excellent.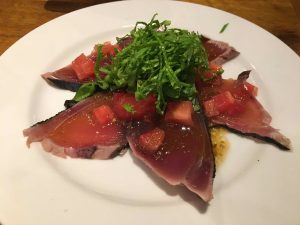 We can vouch for the food, small plates or tapas style….. and the french fries…All delicious!
More Eats!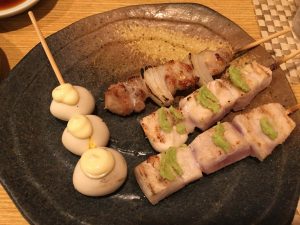 Nearby in the Shinjuku Gyoen area, we enjoyed Nana Izakawa, including the sashimi, quail eggs, chicken (we have found occassionally served pink or medium cooked!), pickled cucumbers, and Asahi Dry beer. All delicious, eventually Tracey had to cut me off, lol.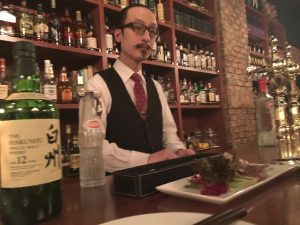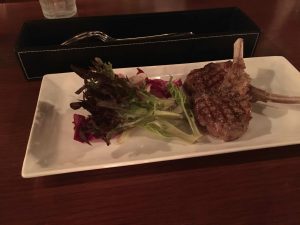 We ate at a very good restaurant and bar near Shinjuku and the Kabukicho area called Nadyne. The place has the feel of an old upscale bar that you would perhaps see in New York City.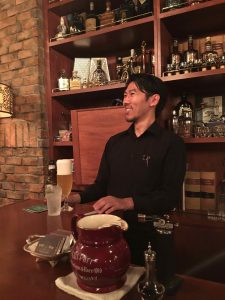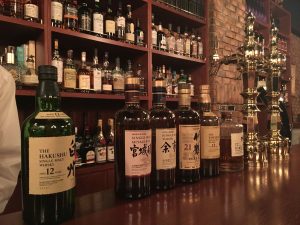 The bartender shares his thoughts on the Japanese whiskeys with me.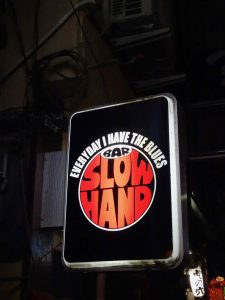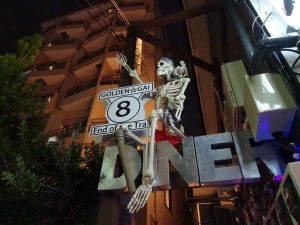 From here we make the stop back at Golden Gai. This is another very unique place with the narrow alleys and old, small bars.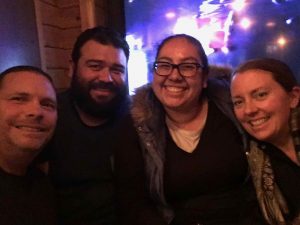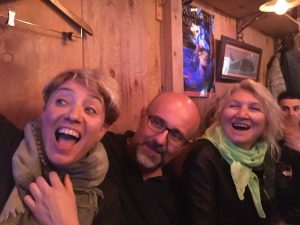 We do find one that does not charge a cover for foreigners. We end up enjoying a couple of hours with an international crew of French, Canadians, and Italians!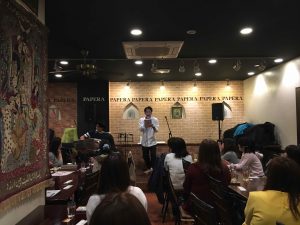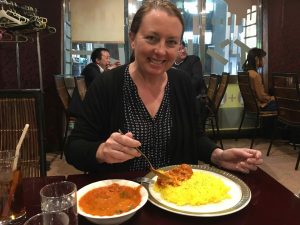 We take our obligatory break from Japanese food and enjoy pizza nearby and Indian food at a fun place called Papera, both are in the Shinjuku Gyoen neighborhood.
Views of Tokyo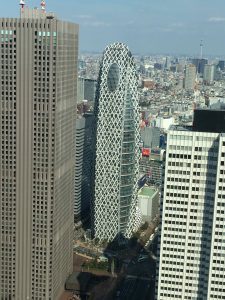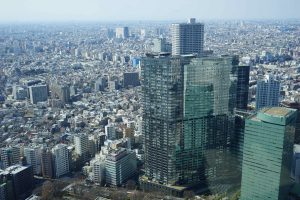 There are several ways to get a view and overall visual perspective of Tokyo. For a great view of Tokyo, and a free one, head to Tokyo City Hall, Tokyo Government building 45th floor observation deck. The twin buildings are actually quite impressive and do have 360 views of sprawling Tokyo. Worth a visit as you can't beat the price! Click here for an overview of six places to catch a view!
A Ground Level View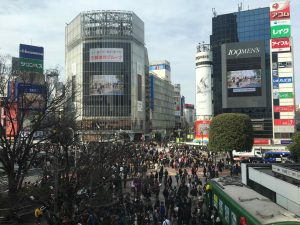 At ground level Tokyo has the world's busiest pedestrian crossing.  The intersection is just outside of the Shibuya subway station.  People from all angles and directions converge when the red lights stop the traffic. The number of people that cross the street every 30 minutes is nearly 50,000 or over one million people per day. Looking over the intersection is a Starbucks, the worlds busiest based on number of visitors.
The other interesting fact about this crossing and Shibuya station is about a dog named Hachiko. The dog is legendary because of his loyalty.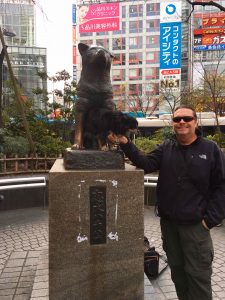 Hachio was an Akita Inu who would wait for his owner at the station every day for the return of his owner, Professor Hidesaburo Ueno. This went on for years until 1932 when Professor Ueno did not return from work one day. He died at work of a cerebral hemorrhage.
For nine more years, Hachiko would still arrive at the station at the same time to meet the usual train carrying his master. Hachiko's fame grew and and a bronze statue of him was placed just outside the station exit in 1934. The Shibuya Station exit closest to the statue has been named Hachiko, after this famous dog.
Hachiko died in 1935 and his fur was preserved and is on display at the National Museum of Nature and Science in Tokyo. Hachiko's remains were buried with his master's at Aoyama Cemetery.
Tsukiji Seafood Market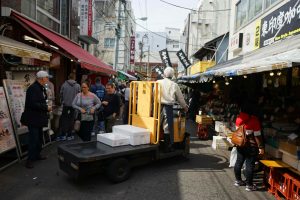 The Tsukiji Market (pronounced skee-gee) is the biggest wholesale fish and seafood market in the world, established in 1926…and not to be missed! The market was scheduled to move in 2016, but apparently postponed indefinitely at the time of this writing.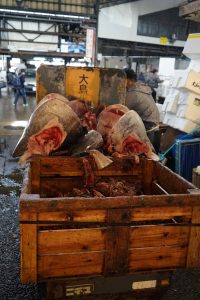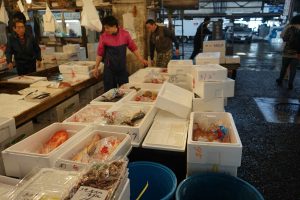 We visit here on our last Monday in Tokyo.  We do not make the early morning tour for observing the famous tuna auction.  This requires arriving at 5 a.m. to maybe get a chance to be one of 20 that are allowed in to view. We do get to walk through the inner market where most of the wholesale business occurs.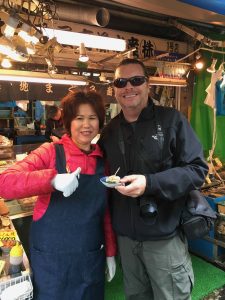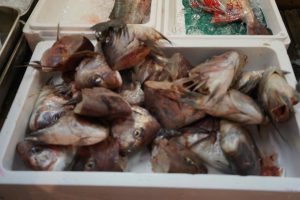 We walk through the outer market that is filled with beautiful seafood and fish that serve the general public.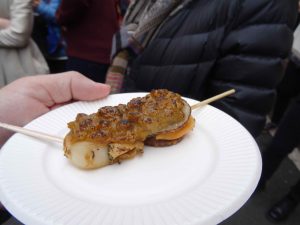 We sample plenty, from swordfish to scallops to uni and crab.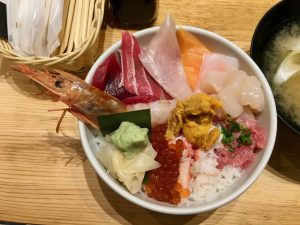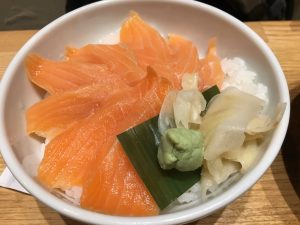 Our visit is finished off with an early lunch at one of the many restaurants. I have the chirashi and Tracey has salmon sashimi. Chirashi is basically assorted sashimi served over rice. Oishi!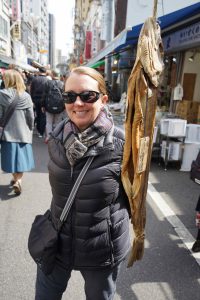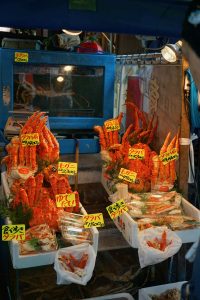 Here is a good overview video by another blogger of the Market.
Tokyo Stock Exchange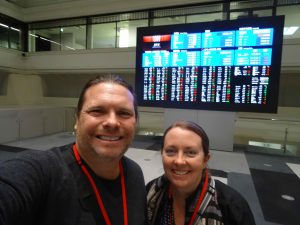 With our backgrounds in business, finance and investments, we must make a visit to the Tokyo Stock Exchange. The Tokyo Stock Exchange established in 1878 is the fourth largest market in the world and largest in Asia.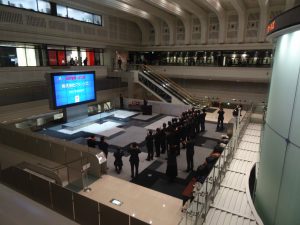 There is a museum there that has items dating back to the 1800s as well as a trading simulation game that can be played, While we are there a company is going public so we witness a bit of the ceremony.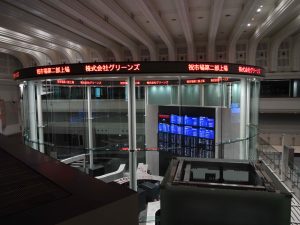 There is no live floor trading, thus, just a handful of people remain. Since automation, the "floor" of the exchange seems a bit eerie as we imagine all that has taken place here in terms of financial and investment transactions in the past.
Live Blues Music!
Last but not least! We love to listen to live music and I usually seek out some venues wherever we are staying.  Wow, and was I pleasantly surprised with what I found in Tokyo.  I did not expect to find such a large number of very talented Blues musicians in Tokyo. They also love their jazz in Tokyo and there are many clubs.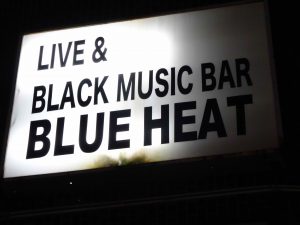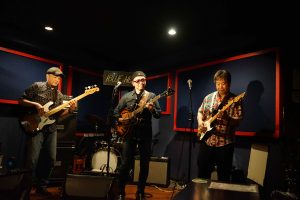 Our first stop for blues is at "Blue Heat", a "black music" bar it is called. We hear a talented musician named BluesnCurtain. There are about 15 people in the small basement bar. We enjoy the music with about half of the songs in English. We also enjoy "conversation" with the musicians and about everyone else in the place. It is definitely a local spot, the owner wondering how we found the place.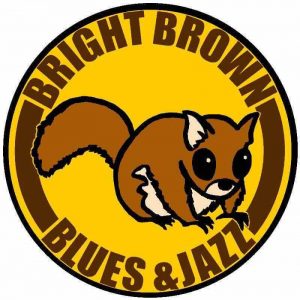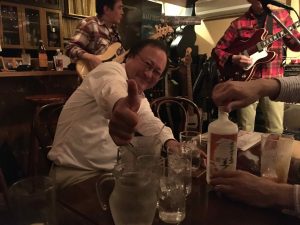 At the suggestion of our friend BluenCurtain, later in the month we head to Bright Brown Blues and Jazz Lounge, another great spot to hear some very good musicians. We attend two jam sessions during the month that are held on Thursdays. We meet our friend BluesnCurtain and others…several sharing the shochu with us!
We also are fortunate to hear Shun Kikuta. Shun is an outstanding musician who lived in Chicago for twenty years played guitar with Koko Taylor, BB King, Buddy Guy, James Cotton, Taj Mahal and many others. Great to see him wearing  Chicago White Sox cap!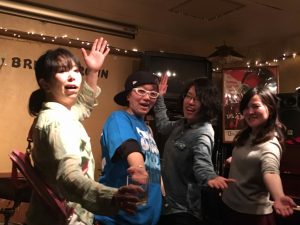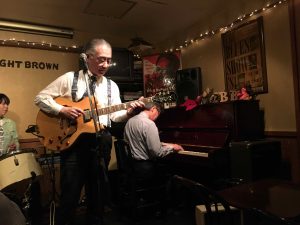 We spend our last Thursday evening at Bright Brown. The servers are all smiles when they see us. The servers, musicians and other patrons made us feel so very welcomed, it was sad to say goodbye.
So Long for Now Tokyo…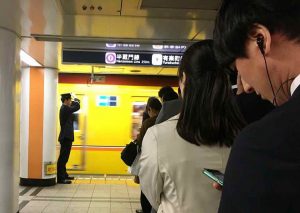 We catch the subway at 8:30 am for the airport, right at the peak of rush hour,  The trains are packed, the busiest we have seen.  Not ideal with the luggage.
We survive being bounced around like pachinko balls on the train as every one on board uses every square inch to make room.  This makes for quite the orchestration of people moving to allow people to exit at each stop.  When we eventually find a seat, in good Tokyo subway fashion, a young Japanese man falls asleep on Tracey's shoulder. Sleeping is a common pastime on the Tokyo subway.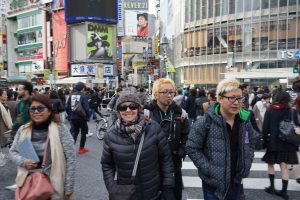 Despite Tokyo being the largest and busiest city in the world, we find people here incredibly polite, laid back, respectful…as is the case across Japan. Tokyo and Japan have been arguably the safest, cleanest and most respectful country of the dozens we have visited.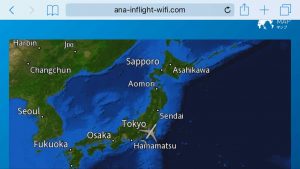 In a little more than 30 minutes the train takes us right to Haneda Airport. We continue to chase springtime in Japan and as we fly Air Nippon to Hokkaido, the northern most region of Japan with hopes of returning to Tokyo someday.
And a few more pics from our stay!
Perhaps a bit too much Cherry Blossom celebration!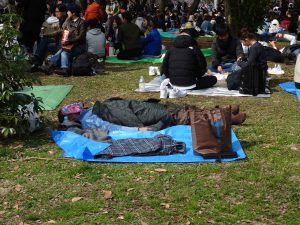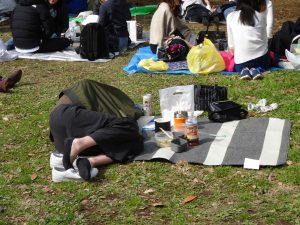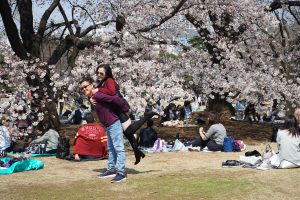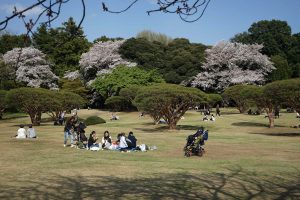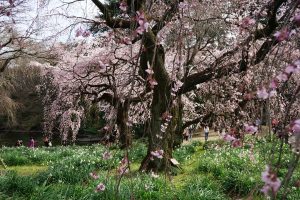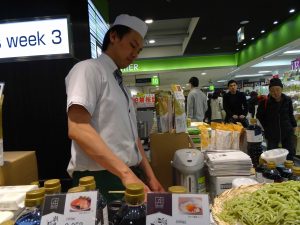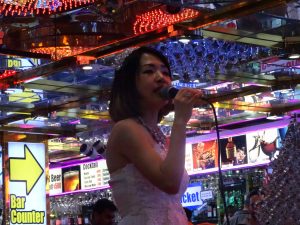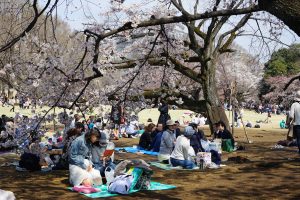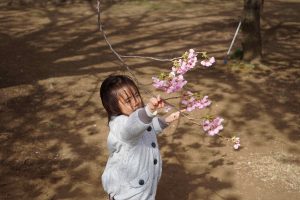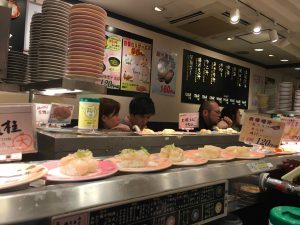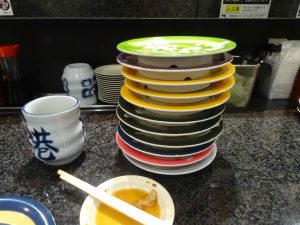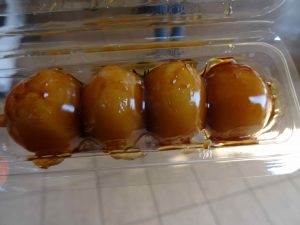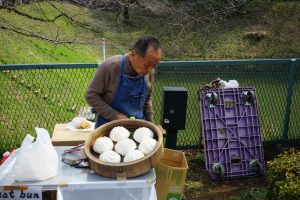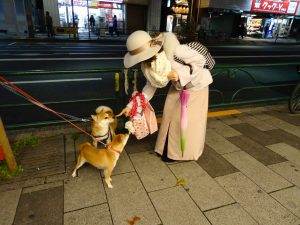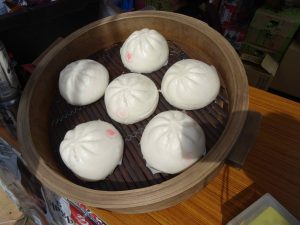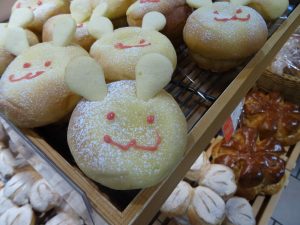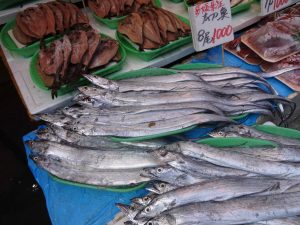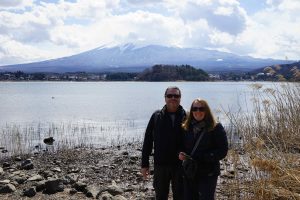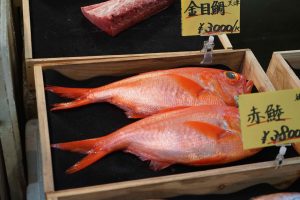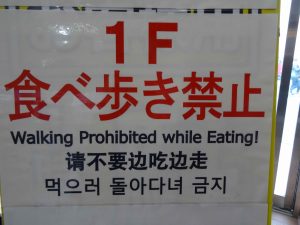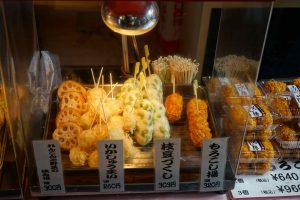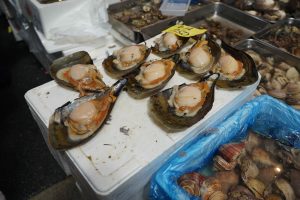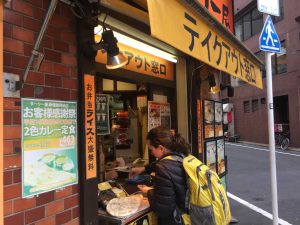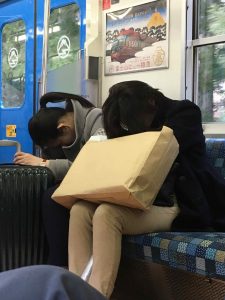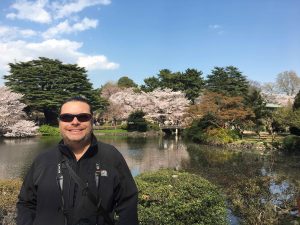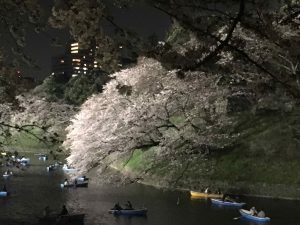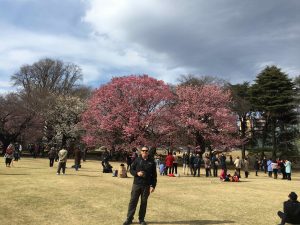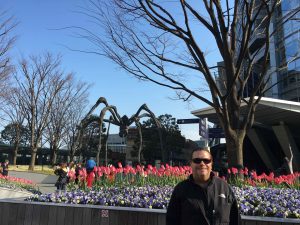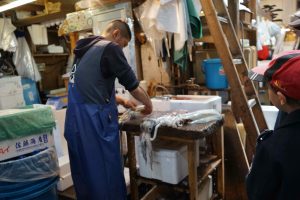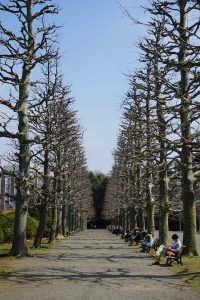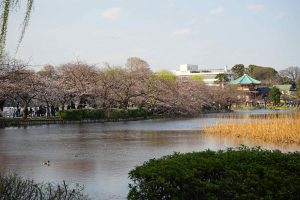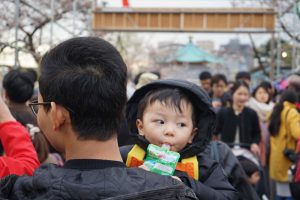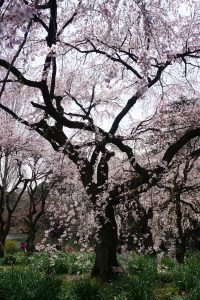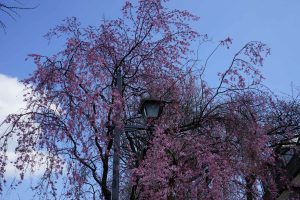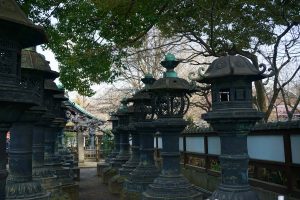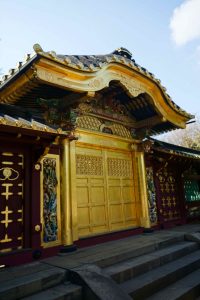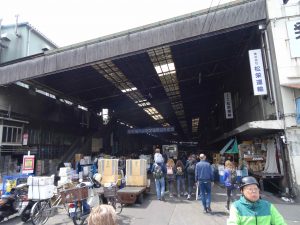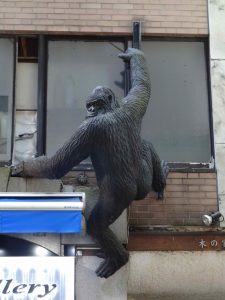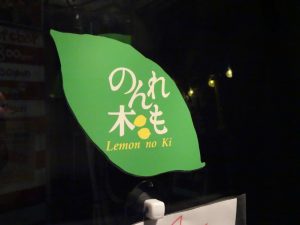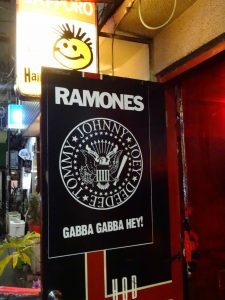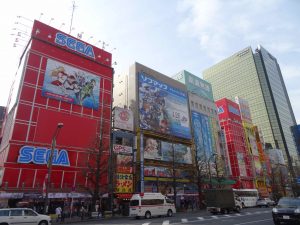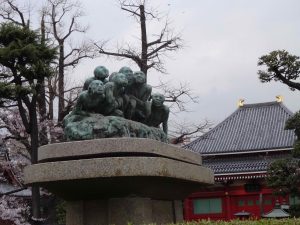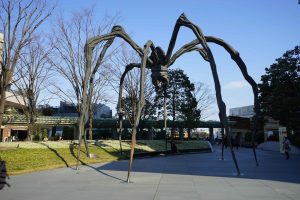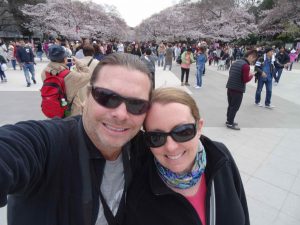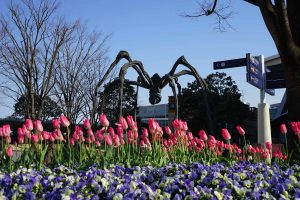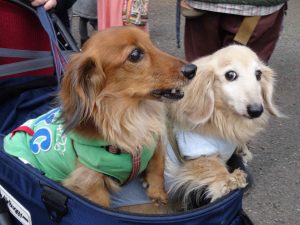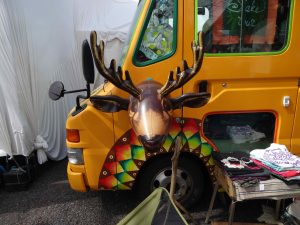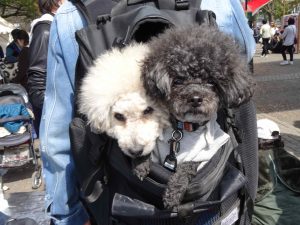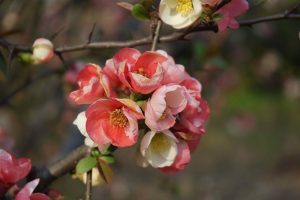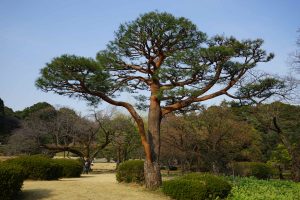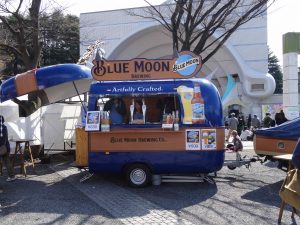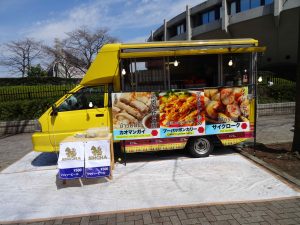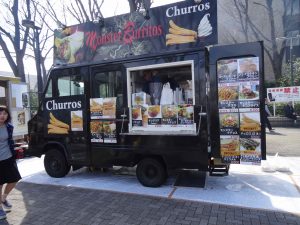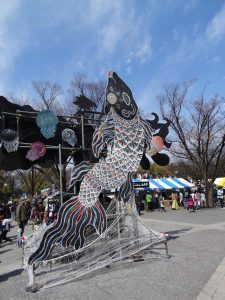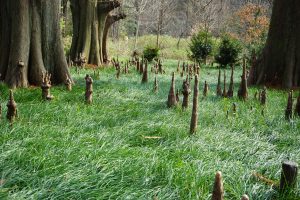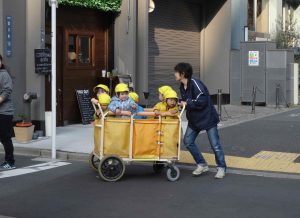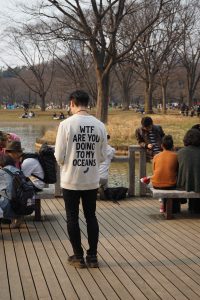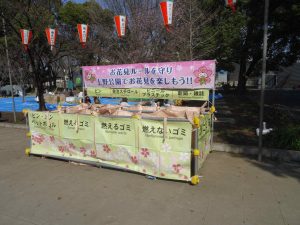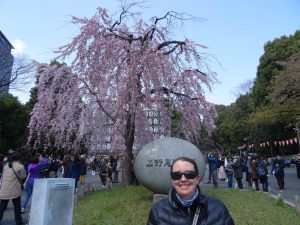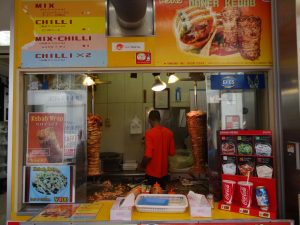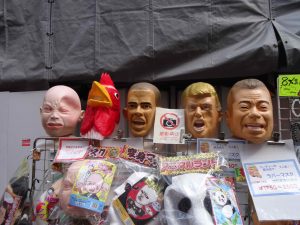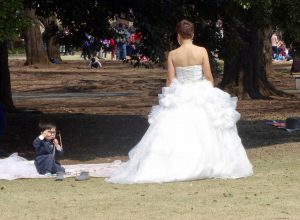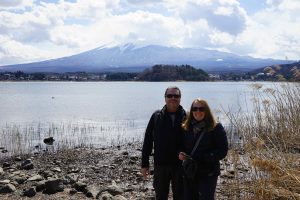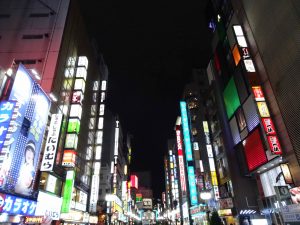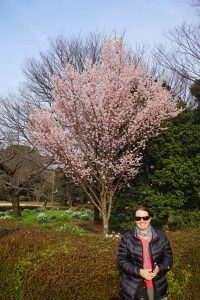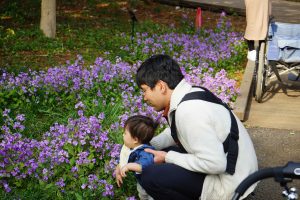 Please follow and like us: