We arrive in Kyoto, Japan early afternoon on a Friday to explore what was Japan's capitol for over 1,000 years, from 794 until 1868. There is plenty to do in the five days we have – 17 UNESCO World Heritage sites, 1,600 Buddhist temples, 400 Shinto shrines, and incredible cuisine with nearly 100 Michelin starred restaurants.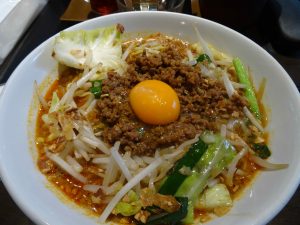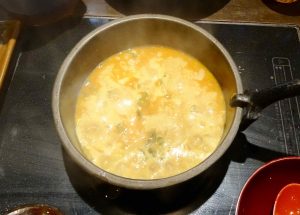 We head out to one of those restaurants after we check in and unpack a bit.  We select a ramen restaurant that you order just outside of the restaurant by inserting your money into a machine, making your selection and a ticket prints out.  That's not unusual in Japan and in the ramen restaurants.  What was a bit different here is that each table has a small stove or heating element. Once the noodles are consumed, the remaining miso broth is heated at the table, mixed with rice and cheese, and thickens to a delightful, heavenly, tasty combo.  It certainly fills the corners!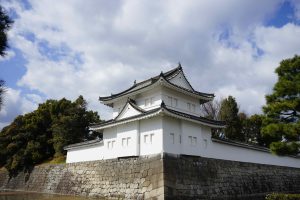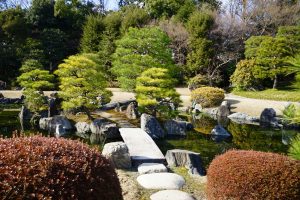 Once we are full with lunch we head over to one of the 17 UNESCO sites, the Nijo-jo. Nijo-jo is a castle that was built in 1603 for the Tokugawa shogunate. It is enormous with imposing stone walls and beautiful gardens.  It is still winter here during our visit, but the Gardens are still beautiful with just a couple budding plants, plum trees and camellia plants.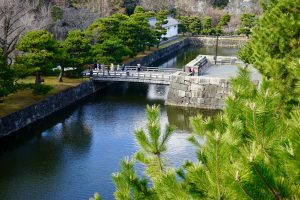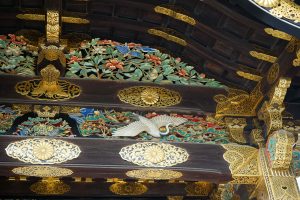 The castle contains a palace within its walls, the Ninomaru Palace, with spectacular screen paintings, multi-tray ceilings, many sliding doors and chambers.  An interesting feature are the "nightingale floors" in the corridors.  To alert occupants of any unwanted visitors, the floors squeak or "tweet" like birds when walked upon.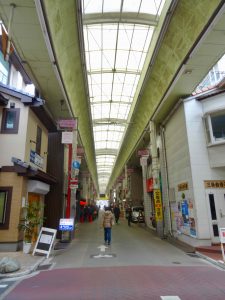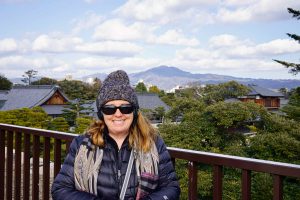 We head back to our digs to relax.  Our location is just off an arcade that has some great shops and restaurants. We do a little "western" food, pizza for dinner as we look to continue our nearly pure Japanese cuisine while in Kyoto.
Weekend Recovery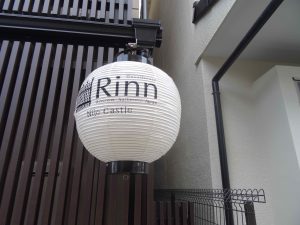 The weekend is a slow one.  We take the time to rest and watch a couple of movies via Apple iTunes. As I mentioned we have both been battling the flu or something a lot like it for the past week. The weather is cool and rainy and we have comfortable accommodations…so we enjoy the rest!
Monday
On Monday, Tracey still has a fever and some asthma acting up. We find a general practitioner that speaks English. I actually talk to the Doctor himself by phone. He wants to make sure we can find him! Off to see the Doc.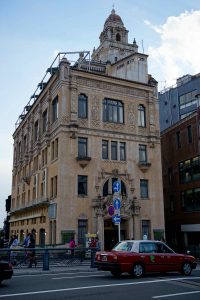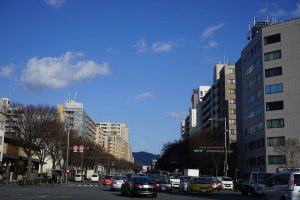 I know where we are going, but we have a hard time communicating the exact location to the taxi driver. So he eventually shuts the meter off and charges us a fraction of what is on the meter. Such kind people…not trying to take advantage of you.
Once we arrive, we are kindly reminded to remove our shoes as we enter.  I thought the receptionist was going to have a mini-stroke when I started to walk past "the line", but she was nice about it and laughed. We both comply, both putting on our slippers. We are brought in to see the doctor immediately.  No waiting, no nurse first.
After an on the spot flu test, temperature check and some conversation with the doctor about Chicago, we are given decongestants and antibiotics. It turns out that the Doctor and I were essentially neighbors in Chicago's Lincoln Park area in the 1980s…lived on the same street! He worked at Grant Hospital and did a fellowship in Neurosurgery at the University of Chicago.
So he asks if we have insurance and we tell him we have BCBS, whereby we pay him, then jump through all the crazy health insurance hoops and routine denials before we finally get reimbursed a small percentage.  He asks if we want to "negotiate"…I say absolutely.  He plays his hand first, 1,000 Yen.  I couldn't help but laugh.  That is about $9. He said it includes the drugs. I am not a very good negotiator, lol, I accept his offer instantly!
It's always interesting and a little fun (except for the sick part) to explore the healthcare systems in other countries.  Any system and country has been better than the US, at least in our experiences thus far in New Zealand, Australia and now Japan.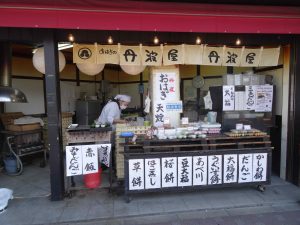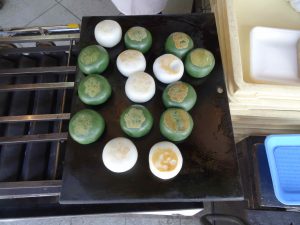 We head home for some late breakfast. Tracey is going to nap and I am out the door to visit some temples. On the way back I stop at a small corner shop for some mochi!
Monday Afternoon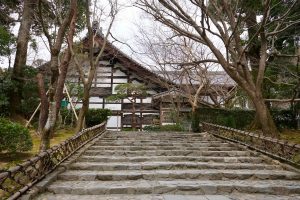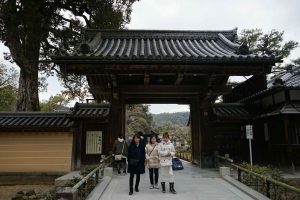 I stop at two temples that are close together and it makes sense to visit both because of the proximity. They are both amazing from different perspectives and are UNESCO World Heritage Sites.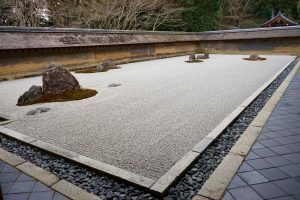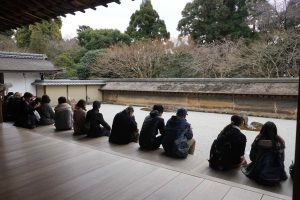 Ryoan-ji, the Temple of the Dragon at Peace is a Japanese Zen temple in northwest Kyoto. It's kare-sansui design ("dry landscape) and simplicity is its beauty. The rock garden of smooth pebbles and larger rock formations facilitate contemplation, meditation and reflection. It is thought to have been built as early as 1488.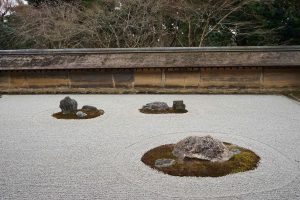 The Zen garden includes 15 moss-covered boulders on gravel, surrounded by low walls. In the Buddhist world the number 15 denotes completeness. Other than the moss, there is no vegetation.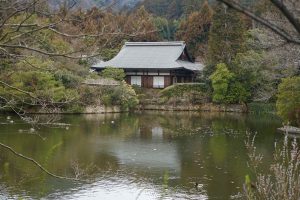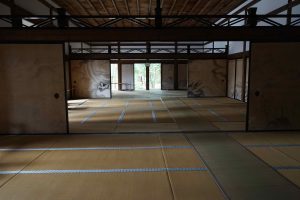 The 120 acre grounds include a mountain backdrop, beautiful lake, trees and vegetation. A meditation hall with tatami mats, sliding doors, and a small Buddhist altar opens onto a veranda that overlooks the rock garden.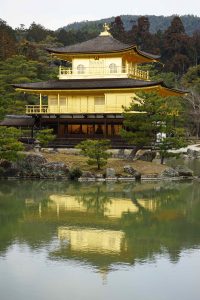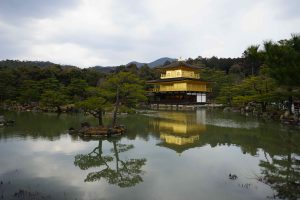 My next stop is Kinkaku-ji. The Temple of the Golden Pavilion is absolutely sensational when you turn the corner and see it across the large pond called Kyoko-chi. Its reflection on the pond is stunning!  The top two floors are completely covered in gold leaf. It was originally built at the end of the 14th century as a home for the shogun, Ashikaga Yoshimitsu.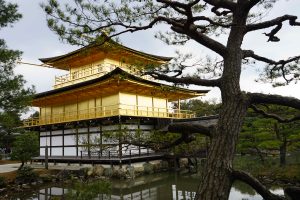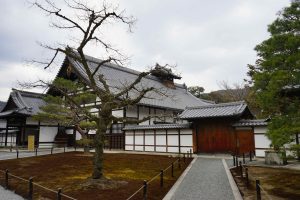 The path around the pond takes you past a building that were the head priest's former living quarters. From here the path goes behind Kinkakuji, then leads through the temple's gardens. Access inside the temple is not allowed, however, I think this is a must see when in Kyoto.
Tuesday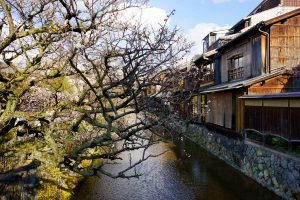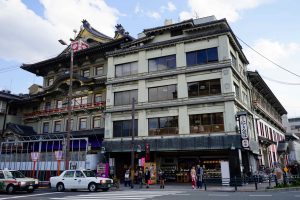 With Tracey still resting and under the weather, I set out to explore a bit more of Kyoto. I head to the Gion district, a short bus ride. It is a popular neighborhood filled with shops, restaurants and teahouses (ochaya), and is known as one of the top geisha and maiko areas (geiko apprentices).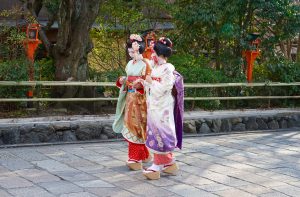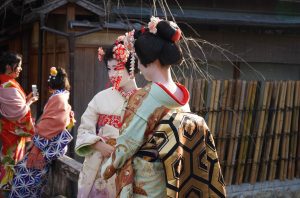 Geisha and maiko do the entertaining as expert hostesses at the teahouses and restaurants through conversation, serving drinks, and performing traditional music and dance. I spot a couple of maiko, but miss the entertaining part.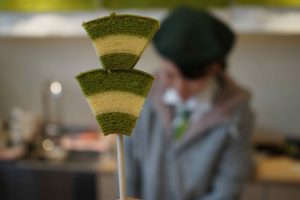 I do not visit any teahouses or restaurants here, rather I aim for a dessert spot. I have dessert on a stick, which is actually a type of baumkuchen, one of Kyoto's most popular desserts. It is made from layers of dough mixed with tofu and a blend of green tea. There is a layer of sugar and a spongy texture which makes for a delicious mixture! This dessert is actually of German origin, introduced and made famous in part by the German Karl Joseph Wilhelm Juchheim who remained in Japan after WWI.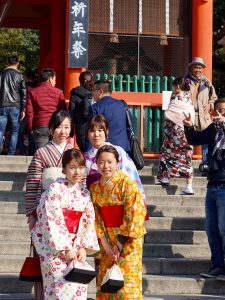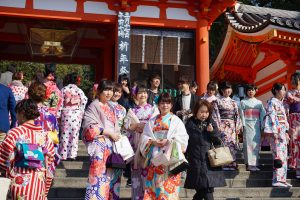 Just past the Gion area I walk over to Chion-in Temple and the surrounding grounds. It may be a graduation week, as there are many young women and men dressed in kimonos and other traditional dress.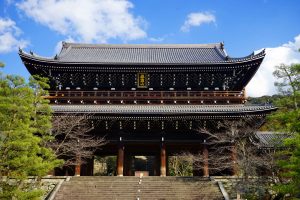 Chion-in is the head temple of the Jodo sect of Japanese. The temple area is entered through an enormous gate and set of stairs from the 1600s, known as the Salmon Gate. As a matter of fact, it is the largest wooden gate in Japan at over 80 feet tall and 160 feet wide.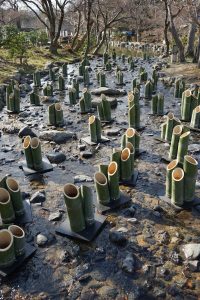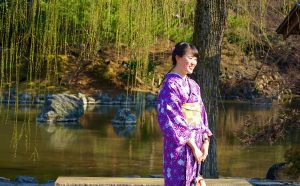 It is a cool but sunny day and makes for a pleasant walk through Maruyama Park.  This park is one of the best spots for viewing and partying (hanami) with the cherry blossoms, however, we are a couple of weeks early to see them here.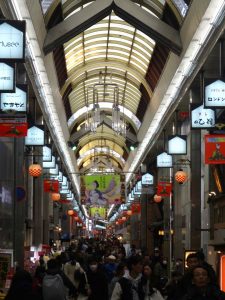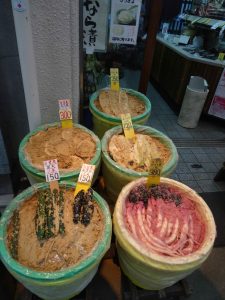 On my way back to our Kyoto residence, I stop by one of the popular impressive markets in Kyoto, Shinzo market. It is an arcade style market through many blocks and tiny streets filled with many different goods and all types of food.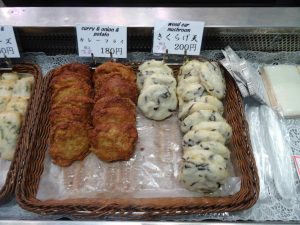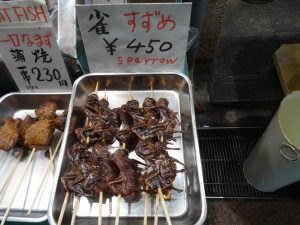 The "sparrow" looks good, lol, but I select a small radish pancake instead. Various samples along the market are also given to shoppers…I try my fair share!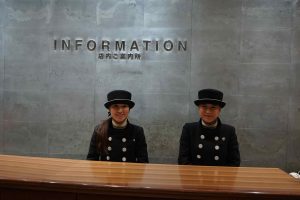 I also take a stroll through the beautiful department store in the area. Of course, I visit the famous basement floors that are filled with impressive food, and yes, more samples.
Wednesday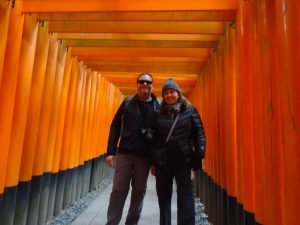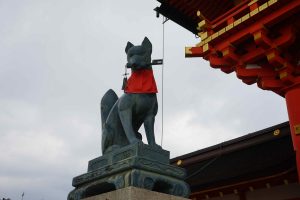 Tracey is feeling better this morning and we head out to one of the more popular spots in Kyoto, the Fushimi Inari-Taisha, a Shinto shrine. This is the location of the endless torii or shrine gates. Fushimi Inari is an important shrine dedicated to Inari, the Shinto god of rice. Foxes are thought to be Inari's messengers, thus we see many fox statues.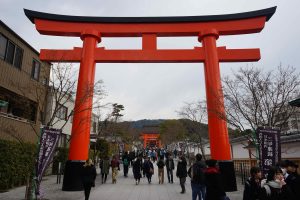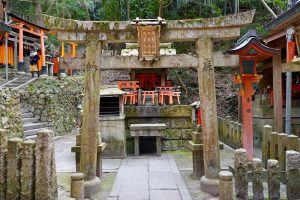 At the shrine's entrance stands the Romon Gate and behind stands the shrine's main building. The shrine is visited for the thousands of torii gates which wind through the mountain trails.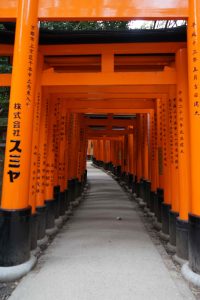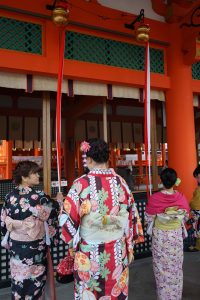 This site, too, is astonishing, The number of gates are impressive and give one a unique sense when walking through and among them! I think this is a must do in Kyoto as well!
Thursday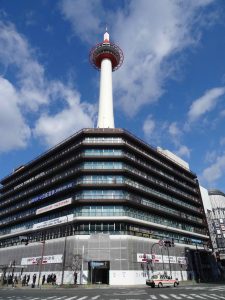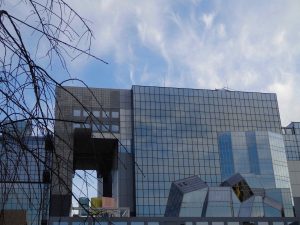 Thursday is a light day, but I make a visit to Kyoto Station. It is actually a magnificent structure itself and worth viewing next to Kyoto Tower. Four floors of this six story building are occupied by a popular Japanese electronics chain store, Yodobashi Camera. It is like a Best Buy on steroids. The camera equipment and electronics available here are incredible…a dream! I could spend hours in here. The building contains a variety of other shops and restaurants well.
Friday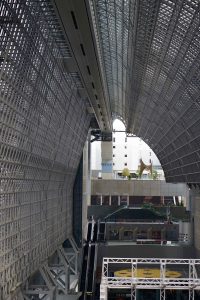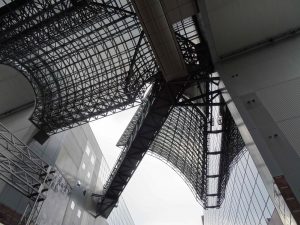 We head to the Kyoto Station and catch the Shinkansen Train for the mountain town of Takayama.  We have a 9 minute connection at Nagaya and it works beautifully.  Onto explore a new area of Japan and some slightly colder temperatures.  Temps in the 20s and 30s (Fahrenheit unfortunately, lol) and a bit of snow.
And a few more pics!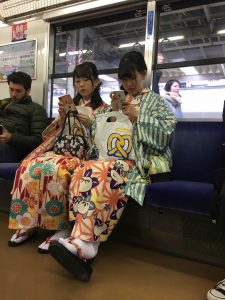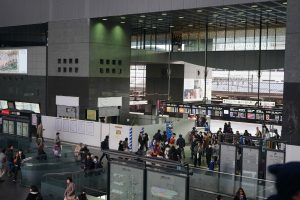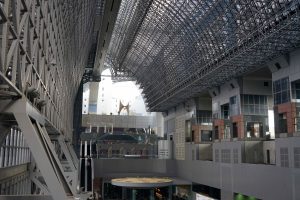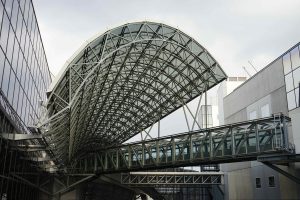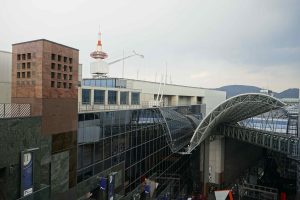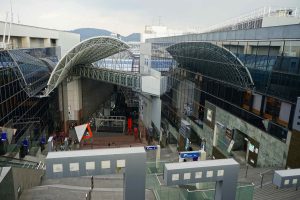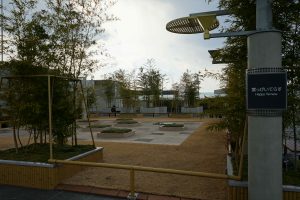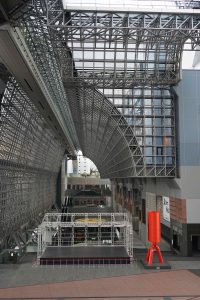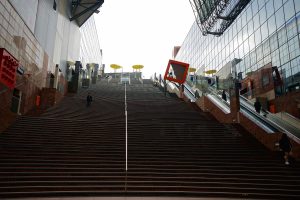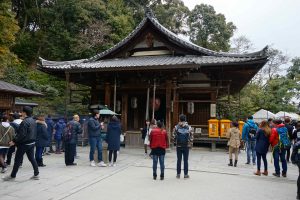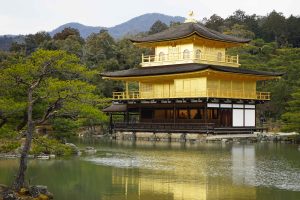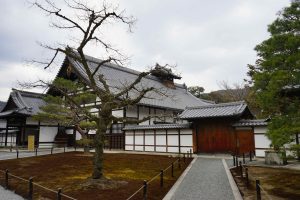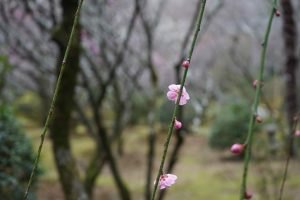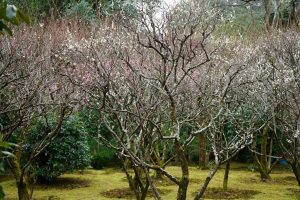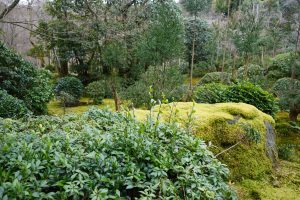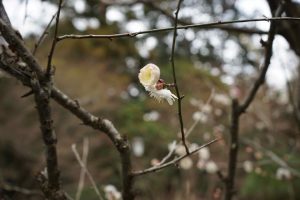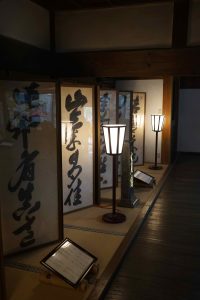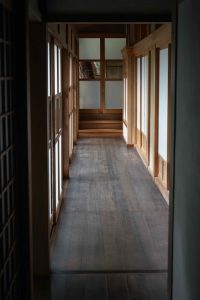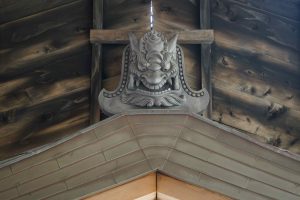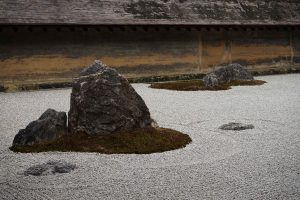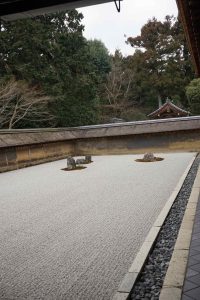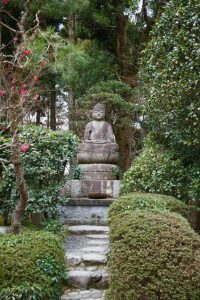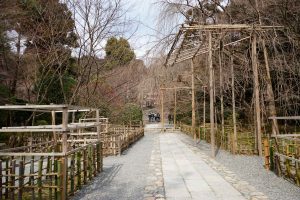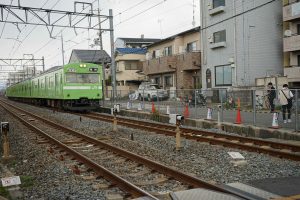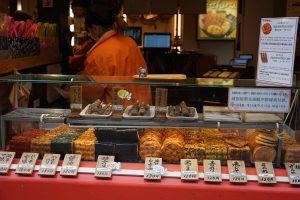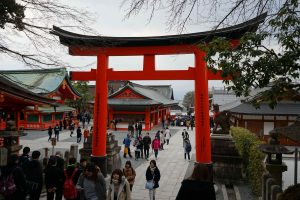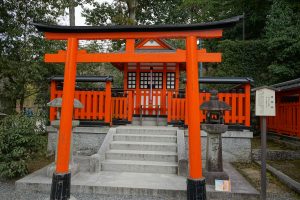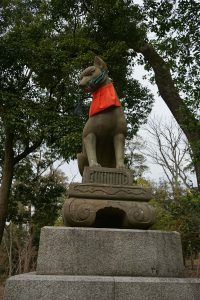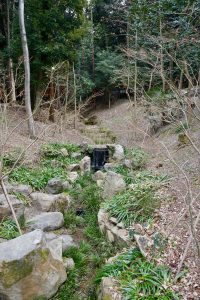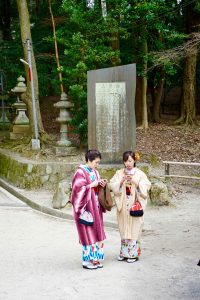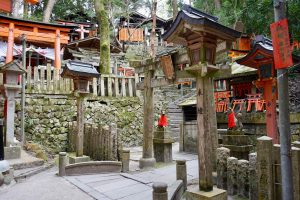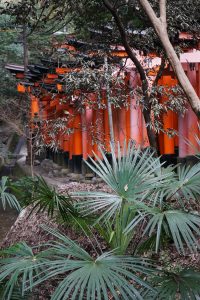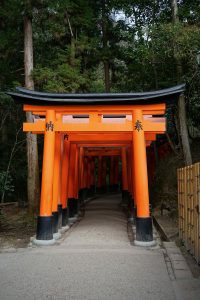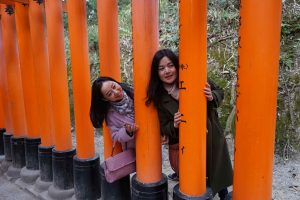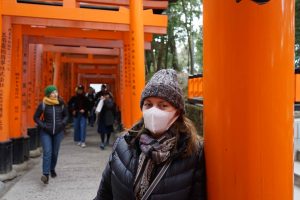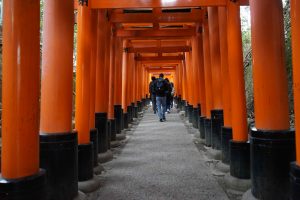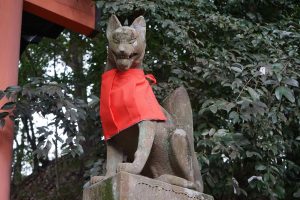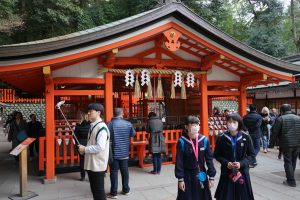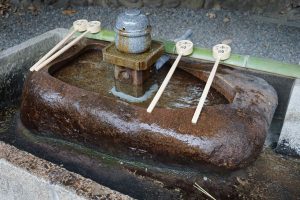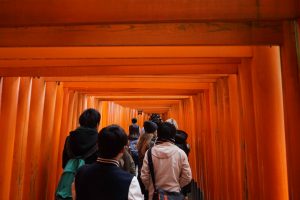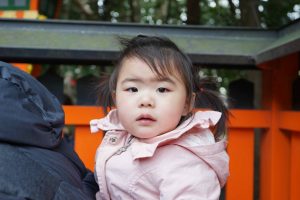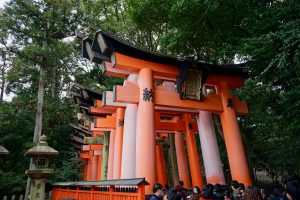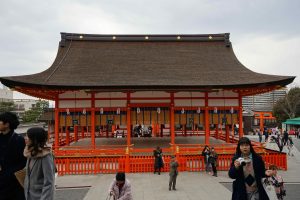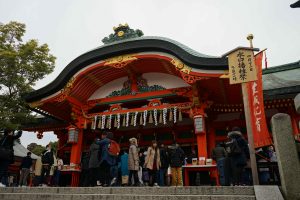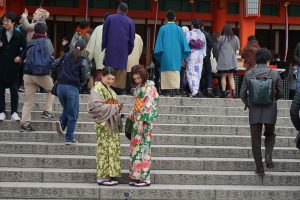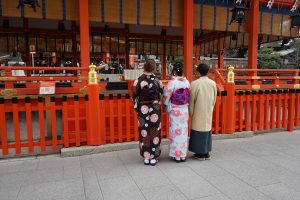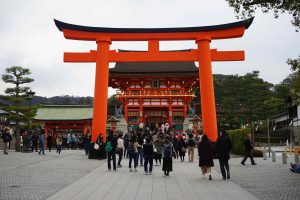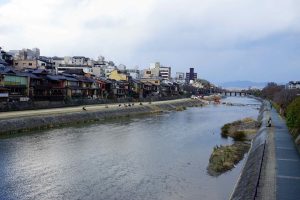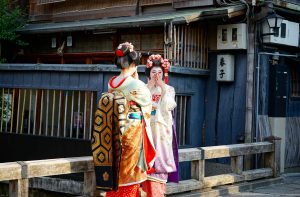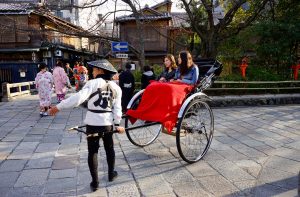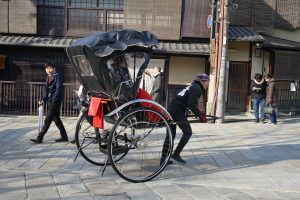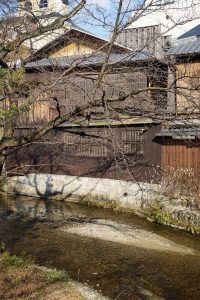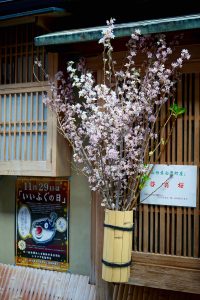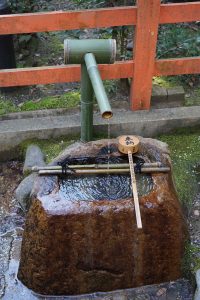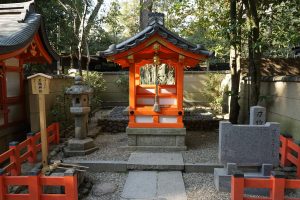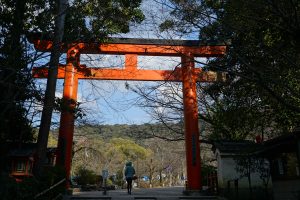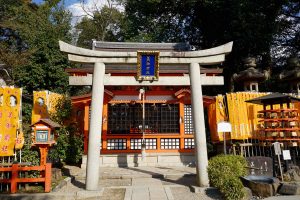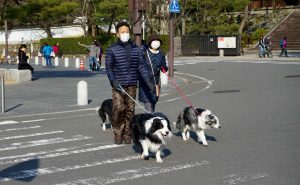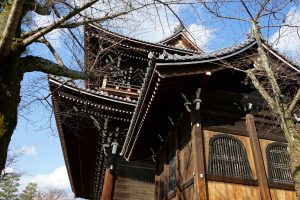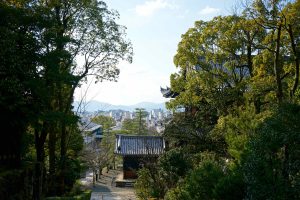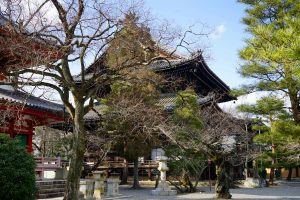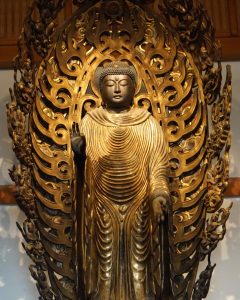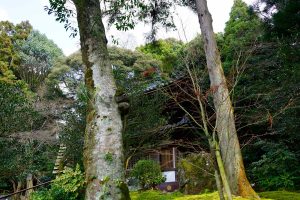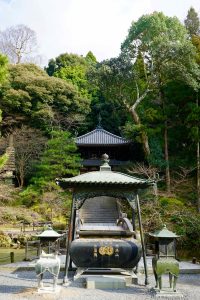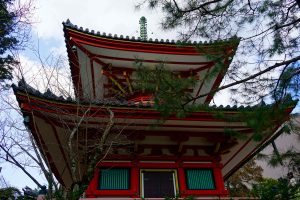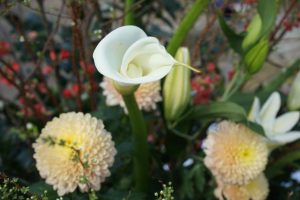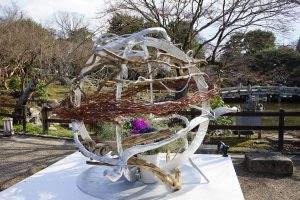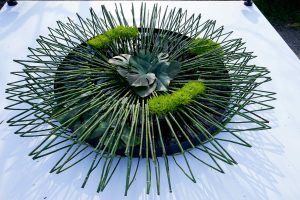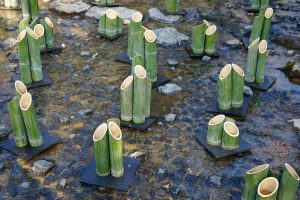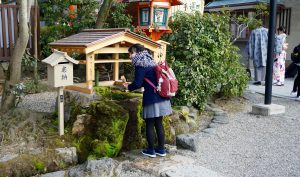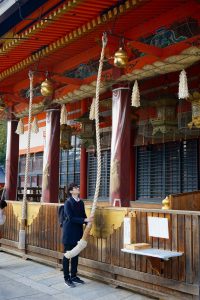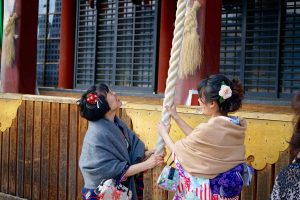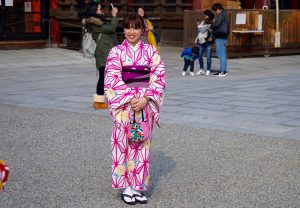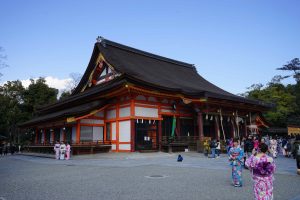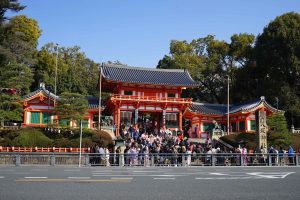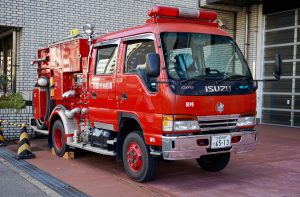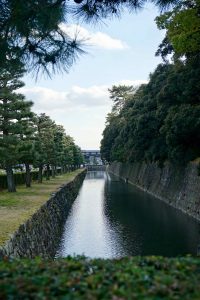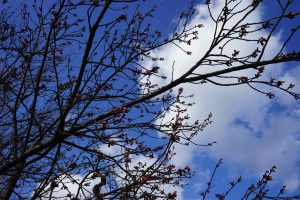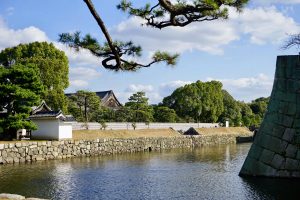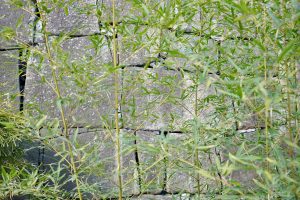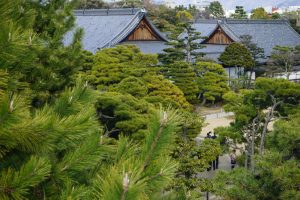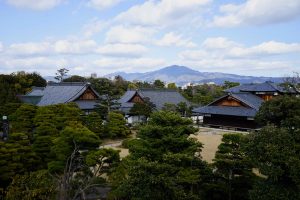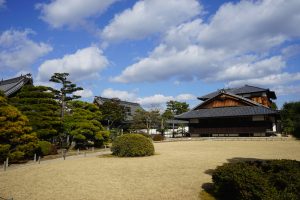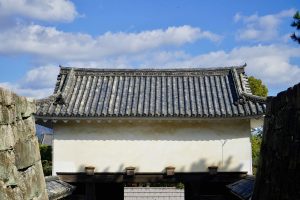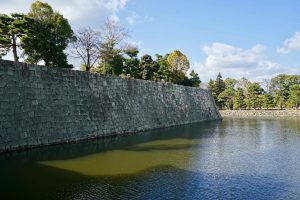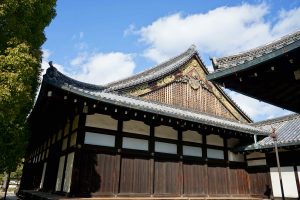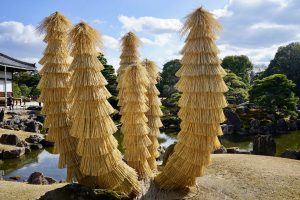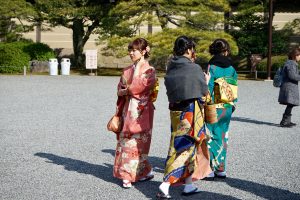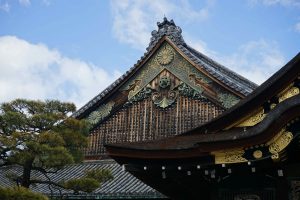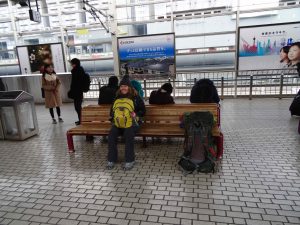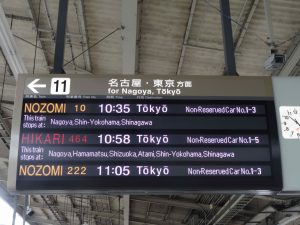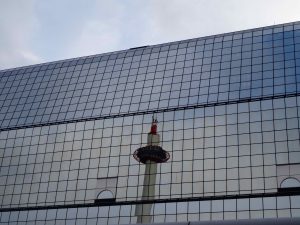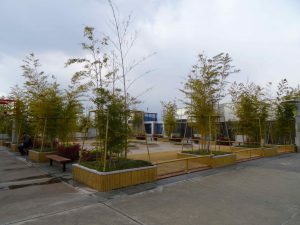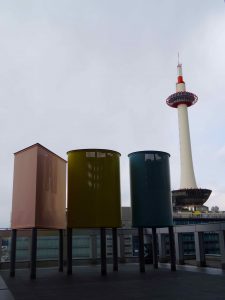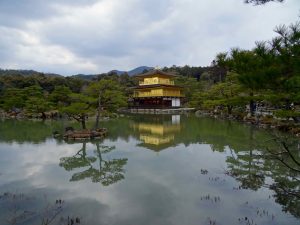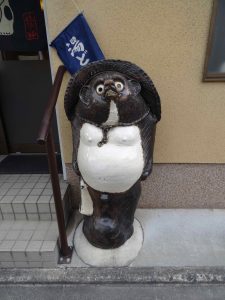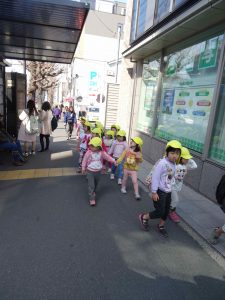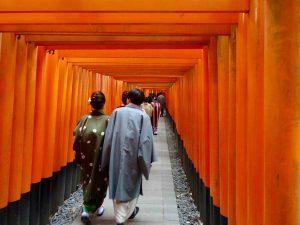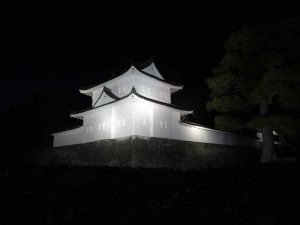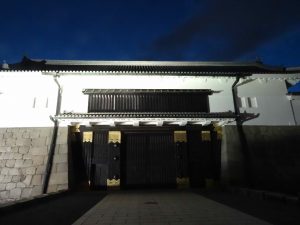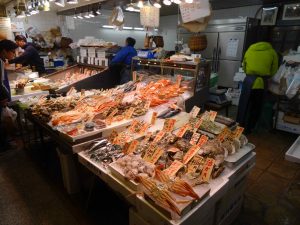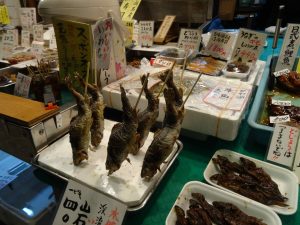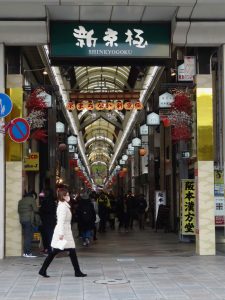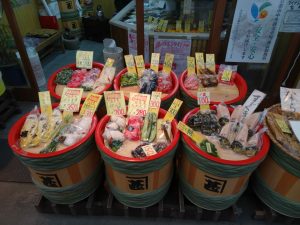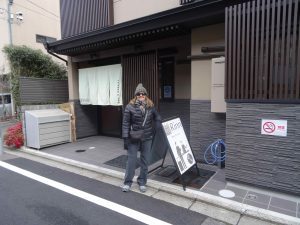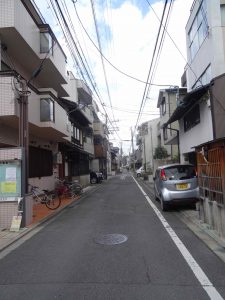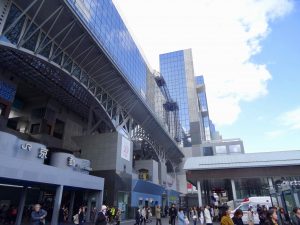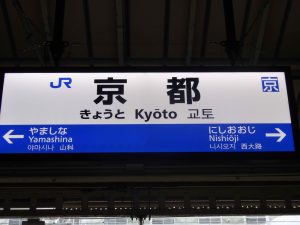 Please follow and like us: